iOS 6 vs iOS 7: did performance drop?
89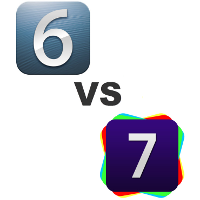 With iOS 7 now officially out, we had hordes of iPhone users report their experience with the new OS through pretty much every possible medium. The first revamp of the simplistic OS has definitely rejuvenated iPhone owners' interest in their devices, and that's no surprise – the changes are significant. But, a common question we've seen being asked is whether the new iteration made things better or worse, at least as far as performance is concerned.
Thankfully, we were prepared for this, and we ran a few benchmarks on an iPhone 5 before and after we updated from iOS 6 to iOS 7. And while we've been hearing that the now older iPhones, like the iPhone 4, are struggling with the load of the new OS (not that they were handling iOS 6 all that handsomely in the first place), the situation with our own iPhone 5 was actually kind of uneventful. Across the board, tests provided largely the close to or the same scores, as you're about to see. In fact, the differences were so small that it felt like the two OSes are largely identical in terms of performance.
Here are the benchmarks we tested:
Browsermark 2.0
Browsermark is one of our favorite benchmarking tools as far as web browsing goes, because it tries to replicate what you'll usually do once you fire up Safari, providing some pretty relevant feedback as far as real life usages goes. As we hinted above, the differences between the performance under iOS 6 and iOS 7 are close to non-existent here. The scores were averaged over three separate runs.
SunSpider 0.9.1
Another browser benchmark, we once again tested the iPhone running iOS 6 and iOS 7 three times respectively, and then extrapolated the average. Once again, the differences in performance were negligible.
GLBenchmark 2.7
The GPU-intensive GLBenchmark 2.7 should give you a better clue as to what to expect once you turn on the more graphics-intensive applications out there, like games. The short answer is that you shouldn't be any more concerned than you were before the switch.
Benchmark / OS
iOS 6
iOS 7
Change (%)
Browsermark 2.0
2800
2784
-0.57
SunSpider 0.9.1
731.9
727.5
-0.60
GLBenchmark 2.7
T-Rex HD (onscreen)
14 fps
13 fps
-7.14
GLBenchmark 2.7
Egypt HD (onscreen)
41 fps
37 fps
-9.75

So, as you can see for yourself, the differences are pretty minimal, almost non-existent between an iPhone 5 running iOS 6 and iOS 7. Seeing as we enjoy iOS 7 more than its predecessor for now, we're definitely happy to see that the seemingly heavier iOS 7 didn't really impact performance, meaning that the experience in that regard will be just as great as with iOS 6, but with the added benefit for a refreshed UI and all the new features.