iOS 5 to come with early earthquake warnings for Japanese users
10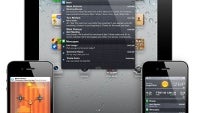 One of the most anticipated novelties in iOS 5 is the overhauled notification system, which aims to both be unobtrusive and more informative as it shows the latest notifications from various apps. But there's one special kind of notifications that will only be available for Japanese users - a native
early earthquake warning system
for the most tremor-prone nation on Earth built in the notification panel in iOS 5.
The service
doesn't predict
but rather quickly informs you when an earthquake has already happened, but the tremor waves haven't reached your region yet. The feature might give you up to a minute or even two to react to the approaching earthquake. This is plenty of time for the well trained Japanese people, but even an unprepared outsider will would be able to turn off the gas or protect himself and his family for once.

iOS 5 will come with early earthquake warnings in Japan
In iOS 5 the warning system will be implemented as a
switch
, so you can easily toggle it on or off. While the cautious ones would leave it on at all times, it's easy to also turn it off as it reportedly drains more juice by constantly syncing with the Japanese earthquake warning system.
Early earthquake warnings are common in local handsets, but global brands have been slow to introduce it in the island country. The Japanese earthquake system is the most advanced in the world with its over 1,000 seismographs.