iOS 5 might not come to the iPhone 3GS
26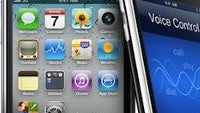 Don't freak out just yet. This is only a rumor. But Eldar Murtazin has tweeted that
the iPhone 3GS might not receive the iOS 5 update
:
"Just one comment. Apple iPhone 3Gs wont be upgradable to iOS 5.x. iPhone 4 will."
We could see this going both ways. For one thing, Murtazin could have been conveying the plural form of 'iPhone 3G'. But it would seem odd to compare that directly with the iPhone 4. We think he just neglected to capitalize the 'S'.
For another thing, it would be weird for Apple to withhold
the update
when they are still actively selling the iPhone 3GS. But, conversely, the iPhone 3GS is a 2 year-old device. And the iOS 4 update dropped support for the original iPhone, and limited its functionality on the iPhone 3G.
While we shouldn't take this as fact, Eldar Murtazin, the editor-in-chief of
Mobile-Review
, has a pretty solid track record of accurate intel. So what do you think? Will Apple leave recent iPhone 3GS purchasers behind?
source:
Twitter
via
TUAW