iOS 11.3 Battery Health and Performance Throttling: what is it exactly?
32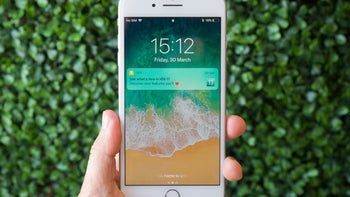 One of the biggest new features in iOS 11.3 is a more advanced long-term battery health monitoring and the option to disable performance throttling, but how do you use these features and what do the numbers there mean?
It all started with an issue that affected
iPhone SE
, 6, 6s and 7 series of devices with older batteries. Those devices would unexpectedly start shutting down when an intensive app runs and to fix that issue Apple decided to quietly slow down the performance of these phones to avoid those peaks in power usage. This, however, resulted in phones running much slower than usual and a lot of perplexed users as to why this was happening. At the end of 2017, a user investigation found the link between degraded battery health and slower-performing iPhones, and multiple class-action lawsuits were filed against Apple for the company failing to disclose these tactics. Apple apologized and promised to give users more clarity about when their battery has actually aged to the point that it needs to be replaced and also allow users to disable the throttling that Apple applies (this way iPhones with older batteries would run faster, but still risk experiencing an unexpected shutdown).
This brings us to iOS 11.3 that finally introduces Battery Health Tools. The feature is in beta as Apple is still putting the finishing touches, but you can already get important information about your battery.
How do you use Battery Health?
If you have updated to iOS 11.3 (
here is how to update
), you can find the new stats under Settings > Battery.
Performance Management: here is what it is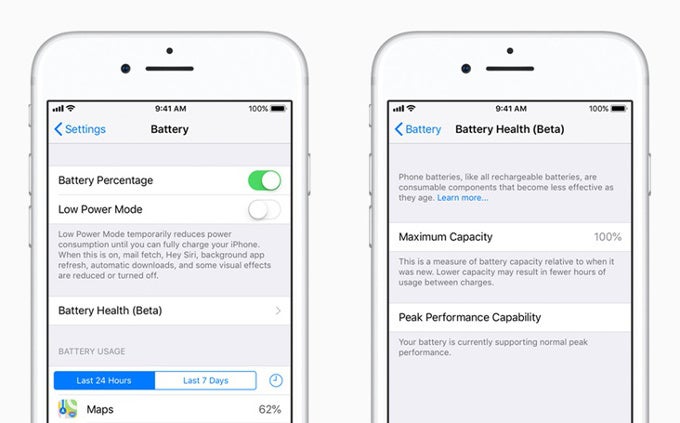 Apple took some draconian steps to avoid unexpected shutdowns on iPhones with older batteries, which resulted in some phones running very slow. With iOS 11.3, the company introduces new measures and the update will actually bring your phone's performance to its peak state. Only then, if you experience an unexpected shutdown, the platform will use performance management to slow down your device, but in a much more subtle way.
iOS 11.3 improves this performance management feature by periodically assessing the level of performance management necessary to avoid unexpected shutdowns. If the battery health is able to support the observed peak power requirements, the amount of performance management will be lowered. If an unexpected shutdown occurs again, then performance management will increase. This assessment is ongoing, allowing more adaptive performance management.
For peak performance, you need good battery, but what does this mean?
In order to have your phone running at its optimal performance, you need your battery to be in a good condition. If your battery is too old, you will need to replace it with a new one. But how can you tell?
Here are the different messages that Apple displays depending on your battery state in long-term Battery Health menu:
100%: Your battery is currently supporting normal peak performance.
XX%: This iPhone has experienced an unexpected shutdown because the battery was unable to deliver the necessary peak power. Performance management has been applied to help prevent this from happening again.
79% or less: Your battery's health is significantly degraded. An Apple Authorized Service Provider can replace the battery to restore full performance and capacity.
Unknown: This iPhone is unable to determine battery health. An Apple Authorized Service Provider can service the battery.
What happens when I disable power management? Is that even safe?
With iOS 11.3, you also get the option to disable power management. When you do this, your phone processor will run at its typical speed, but when there is a power surge, you risk your phone unexpectedly shutting down. Here is an interesting detail: once that happens, your iPhone will restart and when it boots up, power management will be automatically enabled. So if you insist on using your phone with power management turned off and risk having unexpected shutdowns, you will need to re-enable this option every time your phone reboots from such a shutdown.
But in this case, is it even safe running your iPhone with power management disabled. Well... yes. You only risk your phone shutting down on you. Disabling power management only means that your phone will run at the same speed it ran when its battery was new. Apple will still do traditional power management, so you
don't
need to worry that your phone might explode or overheat.
Do unexpected shutdowns affect my iPhone 8/8 Plus/X?
While Apple has warned that all batteries degrade with time and its 2017
iPhone 8
and X series are not immune to that, the company also says that it has implemented a new and more advanced power management that should decrease the chance of an unexpected shutdown on these newer devices. So it seems that currently you do not need to worry about messing with the power management on Apple's latest phones.
Here is the company's explanation:
iPhone 8, iPhone 8 Plus, and iPhone X models use a more advanced hardware and software design that provides a more accurate estimation of both power needs and the battery's power capability to maximize overall system performance. This allows a different performance management system that more precisely allows iOS to anticipate and avoid an unexpected shutdown. As a result, the impacts of performance management may be less noticeable on iPhone 8, iPhone 8 Plus, and iPhone X. Over time, the rechargeable batteries in all iPhone models will diminish in their capacity and peak performance and will eventually need to be replaced.
What about iOS 11.3 battery health for iPad?
The iPad has a much larger battery cell than iPhones, so it apparently has enough power to handle power surges even when its battery is older, so so far there have been no reports of throttled performance of an iPad.