iDrum is an iOS accessory that doesn't make much sense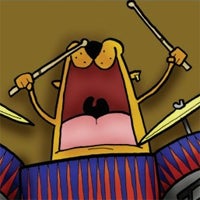 Dream Cheeky is gearing up to release an accessory for iOS devices. The iDrum, as it's called, will make its debut on May 31, 2012 and is available for pre-order now. The iDrum is a seven-piece drum kit bundled into a 9.5" x 12" package. It connects via Bluetooth and comes bundled with a Sound System app that allows you to play along with pre-recorded songs or create your own masterpiece.
While this first strikes you a neat little accessory, the price tag immediately pops that bubble because it's $70. While this may be fun for an iPhone, paying $70 to add a touch sensitive drum kit to a touch-enabled device that is relatively the same size doesn't seem to make much sense. To add insult to injury, in most of the demos the pads are physically shown on the screen, so you're not saving any screen real estate either.
Dream Cheeky says that the pads "are able to withstand even the most frenetic drumming," so we guess it will give you a little more piece of mind than tapping on glass, but ultimately it is demoed using fingers, not drum sticks, so it seems that $70 may be a bit steep for what looks like a novelty at best.
Still, if this is your cup of tea, you can head on over to Dream Cheeky in the source link to pre-order your iDrum.