iCloud hits 85 million users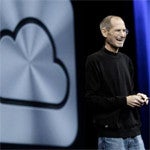 If you build it (and make it free), they will come. Since Apple's iCloud, the free service that keeps your email, calendars, contacts, and documents synced across all your devices, replaced the $99 a year MobileMe service, iCloud has seen incredible success.
iCloud already has 85 million users and over the past three months, its sign-ups have outpaces the unit sales of Macs, iPods, iPhones, and iPads combined. Apple had previously identified iCloud as its "strategy for the next decade." At this growth rate, it could be Apple's strategy for much longer than a decade.
source:
TUAW