Luxury company sells a solid gold iPhone that doesn't exist yet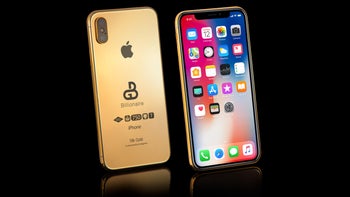 While $1000 might be a steep price for a smartphone for most of us, there are people that make that much in a minute. They must be the target market for Goldgenie, a company that sells blinged-out versions of consumer electronics.
In order to get a head start in attracting wealthy customers, the company is now taking deposits for its "2018 Gold
iPhone Xs
– Billionaire Solid Gold edition". Yes, that is one of the potential new iPhone models that we don't even have an official name for yet. The website reminds that deliveries will start "several weeks" after the release. In case you were curious how much the deposit is, it's $63,000. And that is only half of the final price of $127,000.
To give you an idea of how ridiculous that is, for that amount of money you can buy an
iPhone X
(considering the new one will be roughly the same price) and around 3 kg (6+ pounds) of gold. How much gold will Goldgenie use, it's not clear, but there is some other interesting information their website.
The company boasts that their iPhones are "the only fully customized" ones that come with functional NFC, wireless charging and a lifetime warranty. How the gold back of the device works with wireless charging and NFC, we're not sure, perhaps the layer is as thin as those leaves of edible gold chefs put on fancy deserts. And "lifetime warranty" is hardly a selling point for a device that will be obsolete (by billionaire standards) next year.
Overall, as far as extremely expensive luxury products come, this isn't the most outlandish offer we've seen.
source:
Goldgenie
via
BGR