The best hybrid smartwatches you can buy in 2022 - updated April
We may earn a commission if you make a purchase from the links on this page.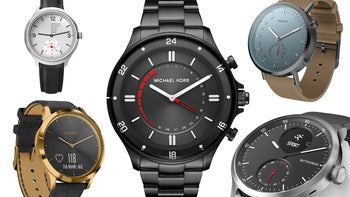 Wearable technology is all around us nowadays,
fitness bands
and
smartwatches
are already quite popular - you can see them everywhere. Smartwatches can do lots of things - display notifications, reply to messages and receive calls, track vital metrics such as heart rate, blood pressure and calories, make sure your sleep is healthy and sound.
The popularity of modern smartwatches is not surprising at all, these gadgets are very useful but there's one key area where they lag behind - battery life. It's pure physics - if you want to keep the device small and lightweight, you can't put a huge battery in. Meanwhile, those bright displays need energy and in the end, we're left with 18 hours on a charge or so, and it's simply not enough.

There's a workaround this issue, however, and it's called "hybrid smartwatches."


What is a hybrid smartwatch?

What if we were able to somehow make a hybrid and get the best of both worlds? Behold the hybrid smartwatch! This gadget is a crossbreed between a regular watch and its smart counterpart.




You still get some of the smart features, coupled with months of autonomy. There are some compromises inevitably, but if you're into more subtle and discreet devices, you'll love the hybrid smartwatch idea.

So, without further ado, let's take a look at the best hybrid smartwatches you can get in 2022.



Best hybrid smartwatches you can buy in 2022:
Whitings ScanWatch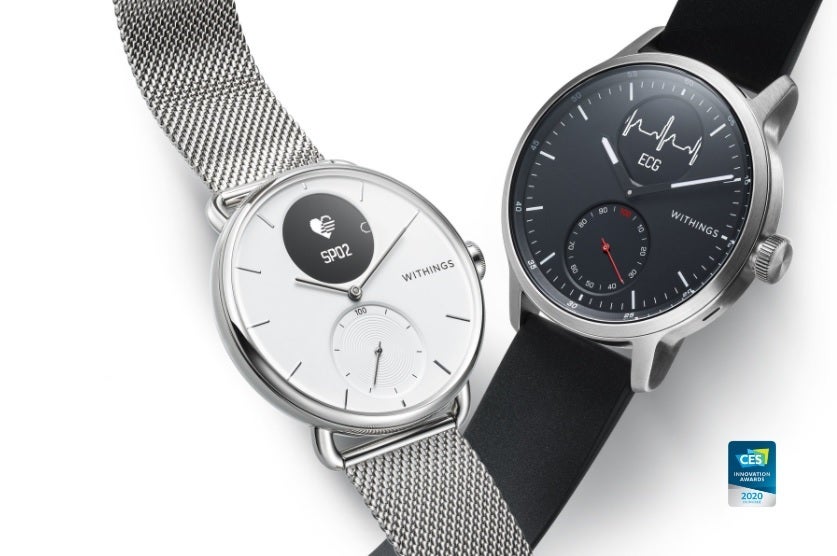 Whitings
has a long history of developing hybrid smartwatches and the pinnacle of all the experience is the ScanWatch. It builds upon all the features of previous models such as the Steel HR, Move, and Steel ECG, while adding some new features. ScanWatch boasts a medical-grade ECG, an oximeter for SpO2 measures, and an exceptional battery life of up to 30 days.
It features a small monochrome display to show basic notifications, but its power lies in the collaboration with various institutions from the medical world, such as Centre Cardiologique du Nord, Hospital Georges Pompidou, and the Ludwig Maximilien University of Munich.
If you want the absolute best in health tracking and monitoring, this one's for you. It's already available in Europe and currently awaits FDA approval to debut in the States.
Misfit Command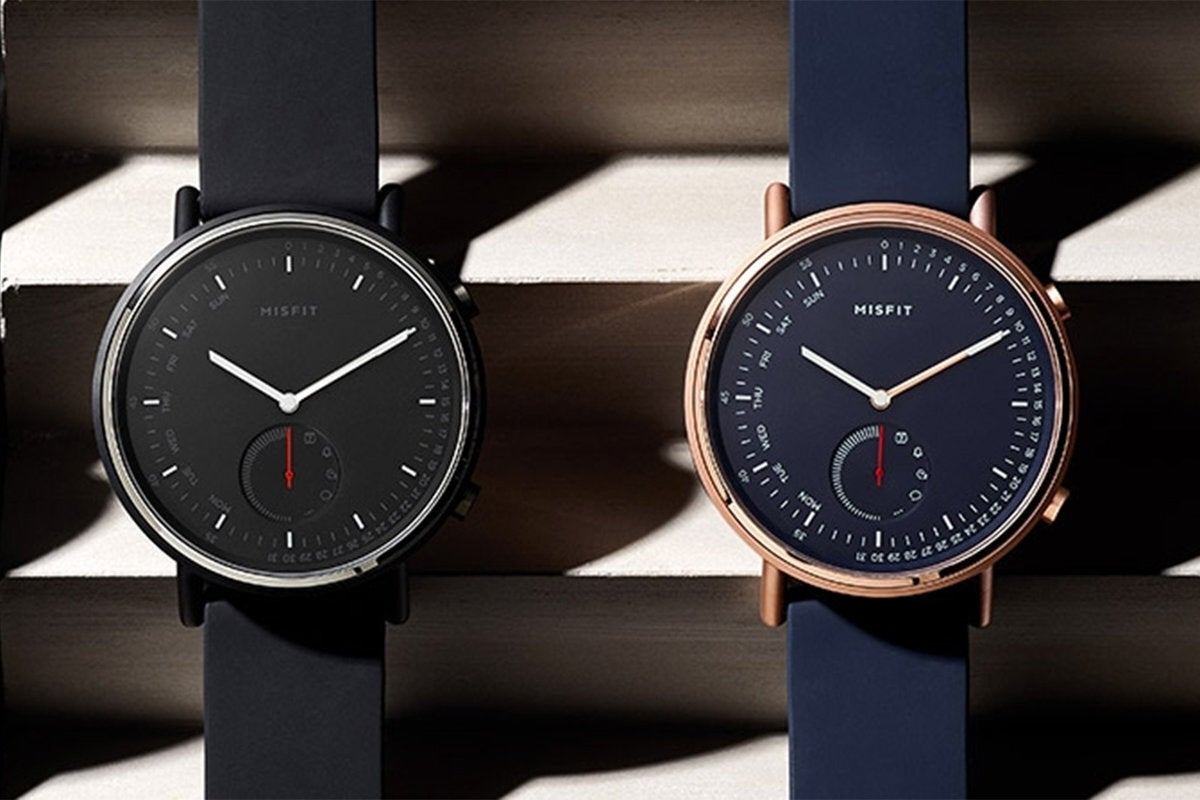 Misfit is currently owned by Fossil but that's not a bad thing. The company was inspired by Apple's slogan "Here's to the crazy ones. The misfits. The rebels. The troublemakers. The round pegs in the square holes." Since its inception 10 years ago Misfit has gone a long way and now offers some really cool hybrid smartwatches.
The Command features a very clean and simplistic design and boasts six months to a year battery life! That longevity comes at a price though. There's no integrated heart rate monitor and no digital display, too. Notifications are actually a buzz on your wrist and sleep and activity tracking both rely on three accelerometers, so not super accurate.
Nevertheless, Command's battery life is unsurpassed by the competition, and its sleek looks might appeal to the traditionalists. It's also very affordable at
$130
.
Fossil Hybrid HR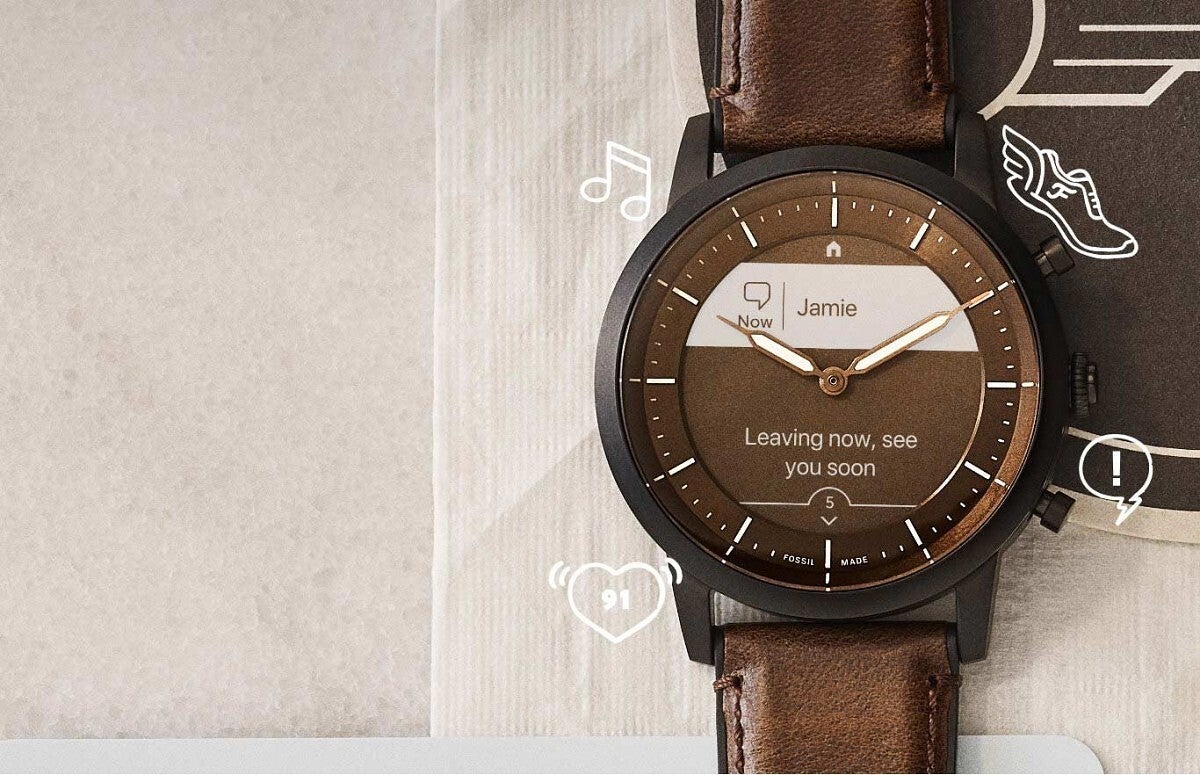 If you want a little more functionality out of your hybrid smartwatch this Fossil Hybrid HR might be the right choice. It features a dedicated heart rate sensor, it can track your workouts and sleep, and you also get notifications on the monochrome display - including email notifications, social media, text, and more.
The watch sports an E-ink display with great visibility under direct sunlight. The Hybrid HR also features customizable buttons, you can use it to control your music playback, and the watch is water-resistant with a 3ATM rating. It's very stylish and you can use a wide range of 22mm bands with it.
The battery lasts up to two weeks, which is expected considering the features onboard. The price of the Hybrid HR gravitates around the $200 mark but you can get one at a discounted price for as low as
$130-140
.
Garmin Vivomove HR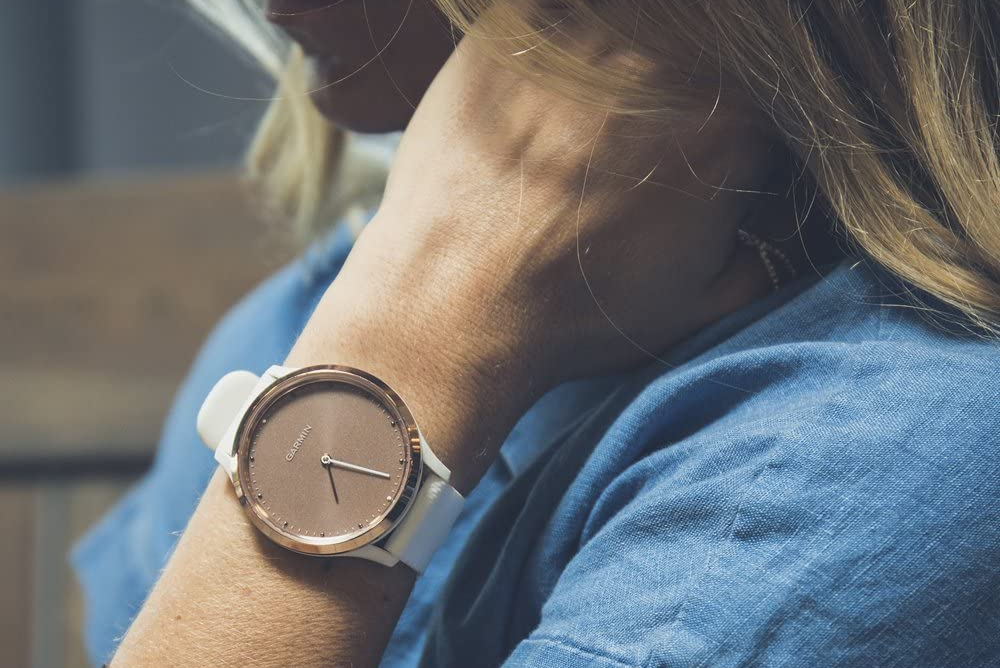 The Vivomove HR is an immensely popular hybrid smartwatch from Garmin. There are a couple of reasons for this popularity. First, the watch is really stylish and sleek - there are lots of options regarding size and band colors.
Second, this model packs a lot of punch with features such as music controls and smart notifications for incoming calls, text messages, calendar reminders, and more. The Vivomove HR is a full-fledged sports smartwatch capable of tracking steps, calories, distance, heart rate, intensity minutes, and VO2 max.
There's one downside to this - battery life. If you use all the smart features all the time this watch will last 5 days on a single charge. It's not bad by any means but the Vivomove HR can't compete with the Misfits and ScanWatches.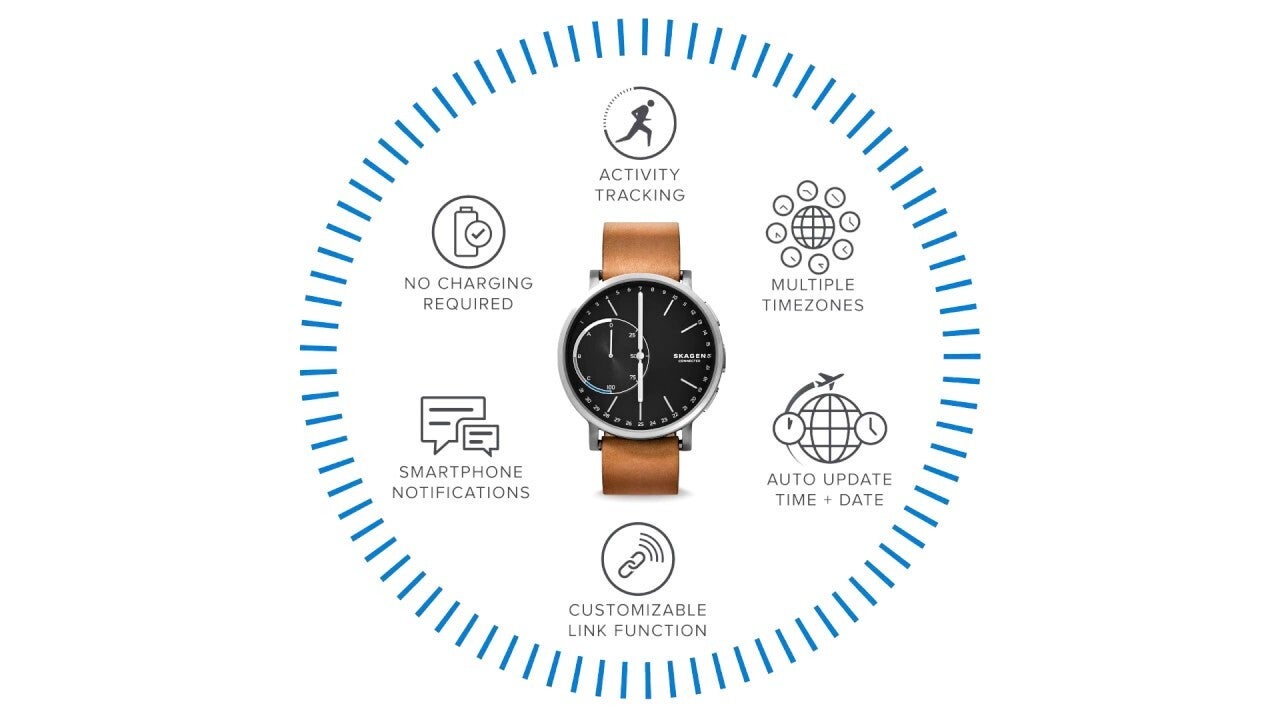 Scandinavian style meets modern smartwatches. Skagen is known for its stylish and not-too-expensive watches but the company now ventures into the hybrid smartwatch territory, especially after the acquisition by Fossil. The Skagen Connected is a minimalist-looking device, you won't be able to tell that it hides some smart features inside just by looking at it.
The watch can track your activities, as well as your sleep but the lack of a dedicated heart rate monitor is a big minus here. Notifications are just a buzz on your wrist, as this watch doesn't sport a display at all. Sleep tracking relies on the gyroscope but it's surprisingly accurate.
The other big plus is the battery life - you can get up to 6 months out of the Skagen Connected. The price is also very attractive. If you're looking for a more classic look with a pinch of smart functionality added, this model is a good choice.
Kronaby Hybrid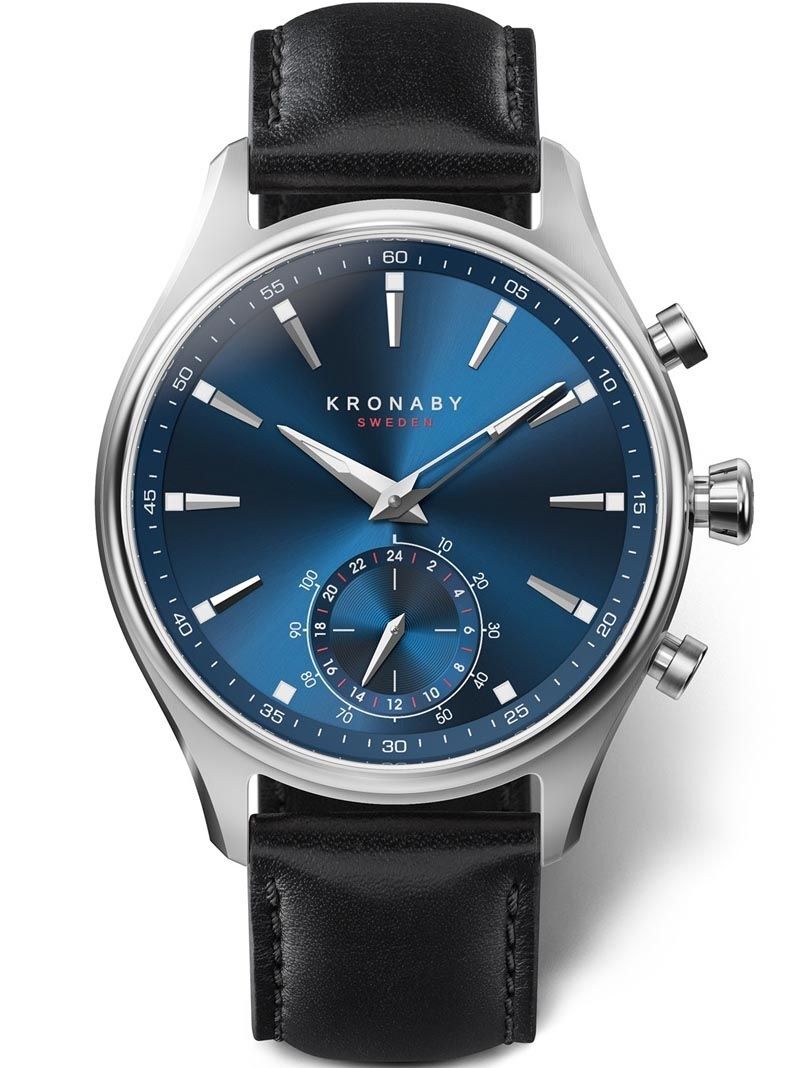 The Kronaby Hybrid is another take on the luxury watch with hidden smart capabilities. The company comes from Sweden, and it offers a really classy look and quality materials in this model.
This watch uses a CR3032 coin cell that lasts for two years before you need to replace it. Along with the usual stealth activity tracking that's going on under the hood the Kronaby has some smart features that many full-fledged smartwatches are missing. You have a camera shutter control for your smartphone, for example.
There are filtered notifications you can recieve on the watch, you can reject calls, control your music, use the "Find my phone" feature, use navigation features such as Walk me home, and Remember this spot.
You also get water resistance up to 100m, a stainless steel body, and a sapphire crystal on the watchface. All this comes at a very reasonable price.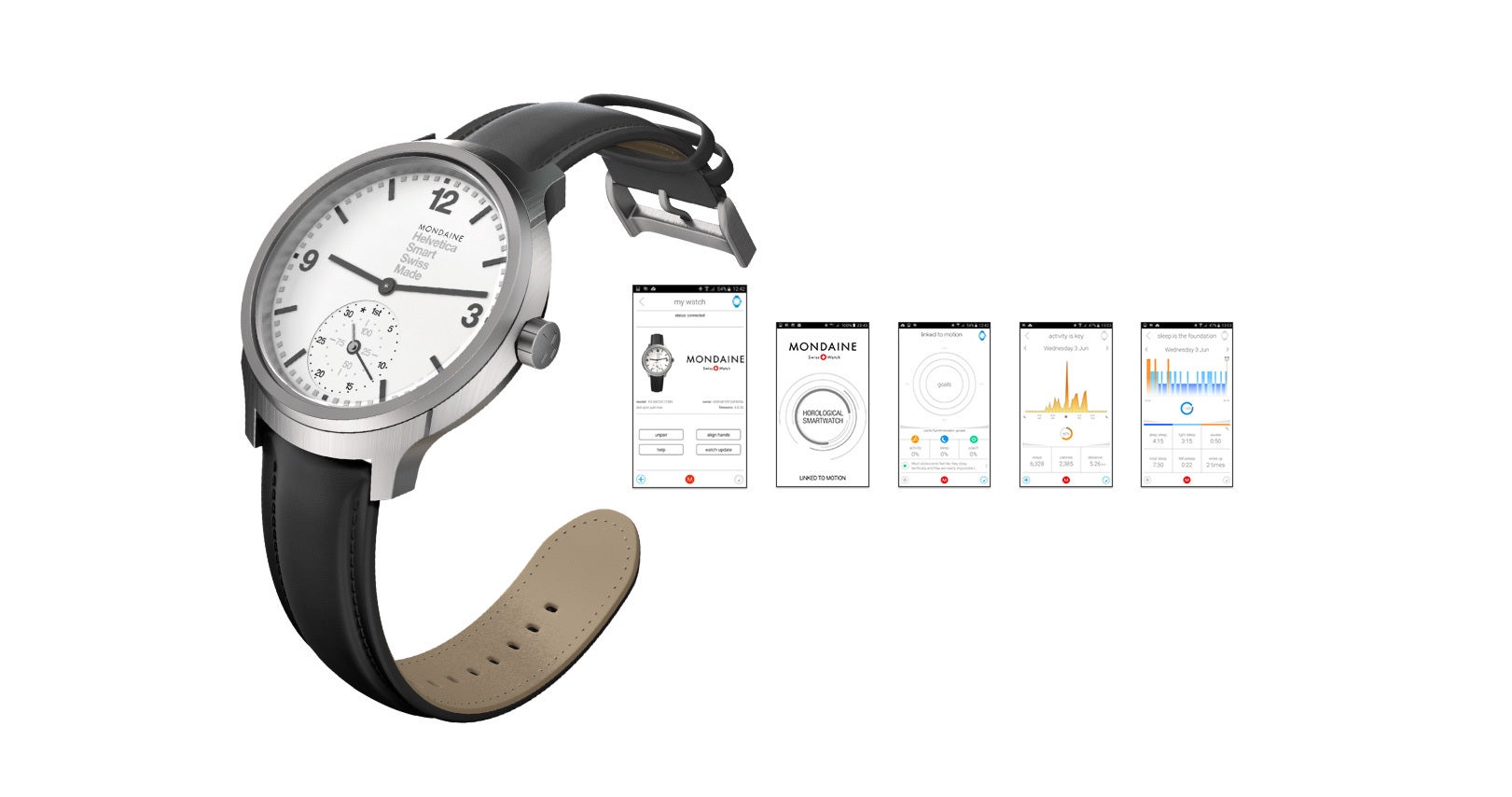 We're now venturing into the Swiss-made territory. The Mondaine Helvetica 1 hybrid smartwatch focuses on design, precision, and status. It's the first Swiss smartwatch and as such, it features stunning design, amazing build quality, and a premium price tag, of course.

Featuring MotionX technology this watch will pair with your Android or iOS phone and will track your daily activity, just don't expect any smart features out of the watch itself. Everything is done via the connected app on your smartphone.

There's no heart rate monitor, no digital display, and no notifications but on the other hand, the battery life is about two years and you get a real Swiss premium watch.
Frederique Constant Horological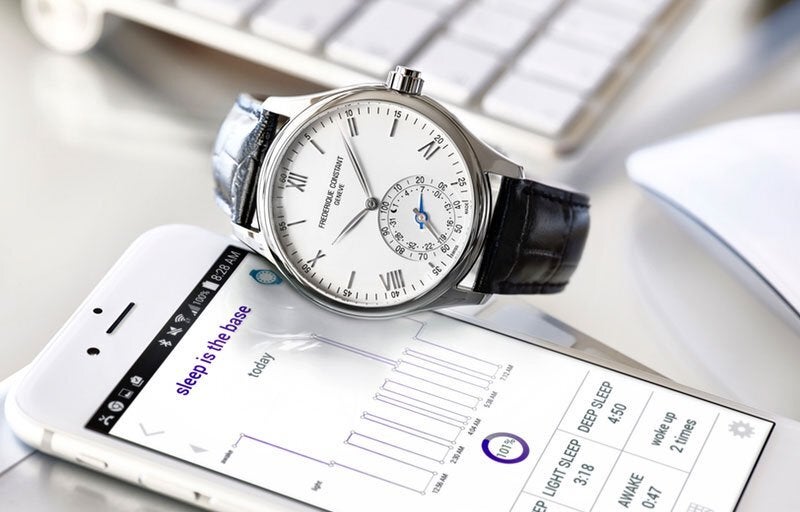 If the Helvetica isn't enough to satisfy your premium cravings, there's the Frederique Constant Horological hybrid smartwatch. Beware, this one will set you back almost 2 grand but if you're into luxury watches, you're already familiar with the fact as well with the Swiss brand.
This beauty relies on the same MotionX platform as the Helvetica 1 model, so expect the same capabilities - step counting, activity, and sleep tracking, and lack of notifications of any sorts.

There's no heart rate sensor on board, no GPS, no display - actually, the Frederique Constant Horological is an expensive and luxury Swiss watch with a step counter baked in it. The connected app tries its best to estimate burned calories or sleep habits from the tiny data input and often it does a decent job.
This model is for watch aficionados who want to keep track of how many steps they take in their Armani suits. Nothing wrong with that.
Withings Horizon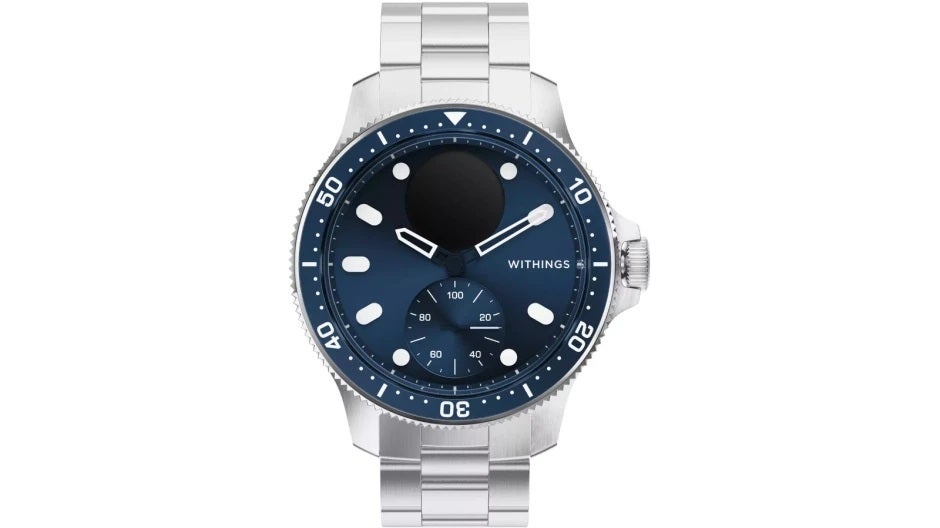 The Horizon is actually a limited and luxury version of the ScanWatch that Withings designed with professional divers in mind. The 10ATM water resistance means that you can dive down to 100m/220feet without any issues (just don't forget to take an oxygen bottle with you). The watch also features a medical grade ECG sensor that can detects signs of an irregular heart rhythm, and also sleep apnea.
The design of the watch itself is very classy - this hybrid smartwatch can be mistaken for a much more expensive piece of gear when you swim by fellow divers at 100m. Joking aside, the build quality is impeccable - the face is covered by sapphire glass, and the body and wristband are made from high-grade stainless steel.
You can use the Horizon in less extreme environments too - the smartwatch can track more than 30 activities, such as walking, running, swimming, and cycling. And what's even more satisfying is the battery life - 30 whole days of it, to be precise.
The Horizon costs 499 euro
, and it's expected to arrive to the US later this year.
Conclusion
This concludes our list of best hybrid smartwatches. The job is done for now but not dusted, as new models are popping up like mushrooms on the virtual meadow. The list isn't as long as a typical smartwatch list of the same kind but you still have some pretty decent options. Given that the battery technology is still the week link in today's electronics, opting for a hybrid smartwatch can be the best of both worlds - the style, the longevity, and the added features.