The best Star Wars games for iPhone and Android: let's shoot some stormtroopers!
1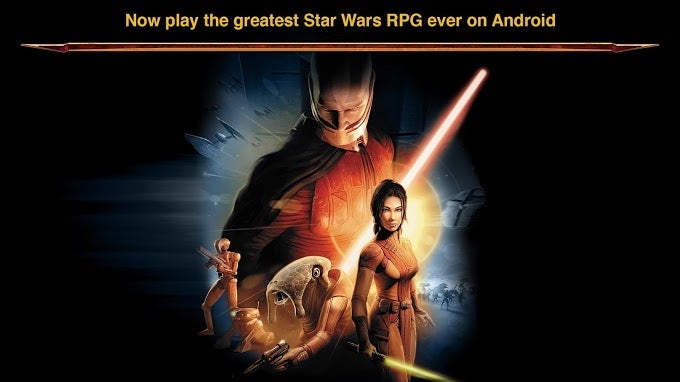 A long time ago, in a galaxy far, far away, people had no smartphones, but they had laser swords and lightspeed space travel... Eh, let's call it a draw! With the upcoming release of the Star Wars: The Last Jedi and with Star Wars: Battlefront 2 still being hot on the shelves, you've probably been reminded of this universe and would like to revisit? How about pick up a nice Star Wars game for your phone or tablet, you know — to achieve that sense of pride and accomplishment while on the go?
Well, you're in luck — there are plenty of apps and games out there in the app stores that take us right to the battle between Light and Dark. And we picked out the best ones for you right here — dive right in for some action, RPG, strategy, or augmented reality experiences right below!
Star Wars: Knights of the Old Republic
Considered by many to be one of the best Star Wars-themed games of all time, KOTOR was originally released for PC and Xbox way back in 2003. However, since it's a beloved and highly replayable RPG, it was ported to iOS and Android 10 years later.
Since it was built as a full PC / console title, there are no mobile shenanigans here. This game is long, has a deep story, and tons of ways you can customize your character and overcome various obstacles. It's also by no means considered canon — just wanted to throw that in there, in case you were hoping you'd meet Rey's parents.
Star Wars: Force Arena
The Force Arena is a MOBA title — two teams composed of player-controlled heroes and AI-driven soldiers battle it out until one destroys the base of the other. It's frantic, quick, and a bit shallow for a MOBA, but hey — it's a mobile game. It's fun to jump in whenever you have a few minutes to burn. There's also a lot to unlock there, either via grinding through the game or through in-app purchases.
Star Wars: Commander
Star Wars: Commander is a Clash of Clans-like strategy game, in which you need to build a base, manage it, and defend it against enemy attacks. Apart from defending your base, you also need to attack the fortified bases of the rest of the players with various mechs, like AT-ATs, AT-STs, and others. The game is free to play, but a host of in-app purchases exists which will you help you progress the game more easily.
Star Wars: Galaxy of Heroes
If you aren't into frantic action, check out Galaxy of Heroes — a turn-based strategy that will have you control a team of Jedi knights, wookiee warriors, disposable clones, and others in small battles versus teams of droids, stormtroopers, and sith. You've got plenty of cards and characters to collect to keep you tied over for a long time.
Star Wars – Heroes Path
Heroes Path is more of a puzzle game set in the Star Wars universe. You've got a board split into sectors and enemy pawns patrolling around in a certain path. You need to figure out a way through, manipulate the board, and find your way to its other side.
LEGO Star Wars: The Complete Saga
Price: $6.99 to unlock full game
Play through the stories of the first two Star Wars trilogies... only everything is made out of LEGOs. The LEGO games are usually targeted towards younger audiences, but generally end up being a fun, arcade game time. The Star Wars game we have here is no exception.
Star Wars: Jedi Challenges
Caution: this game requires additional hardware: the Lenovo Jedi Challenges set ($199.99). Jedi Challenges is an augmented reality game that, with the help of the proprietary lightsaber controller, will have you dueling sith in your living room, playing that Star Wars chess that Chewie was playing on board the Falcon, or even commanding troops over a virtual strategy table.