bada 2.0 leaked for the Samsung Wave II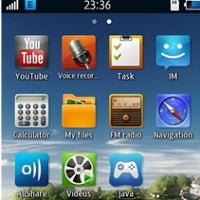 Waiting for bada 2.0? It's not officially out yet, but a leaked ROM on SamsungFirmware now allows you to flash the second version of Samsung's operating system on the Samsung Wave II. The build might not be identical to the final one, but most essential features including contacts and messaging are working. First thing that strikes you though is the new sleek visuals – the interface seems very streamlined with transparent widgets and multiple homescreens. There are four icons docked at the bottom, an upgrade from the three in previous bada versions.
Some not so essential features like adding new widgets to the homescreen, IM and the Google and Facebook apps however are not yet working. This build goes under the S8500XPKG5 name and is the latest of bada 2.0.1.