Apple taken to court in Canada over scratched up Apple Watch
6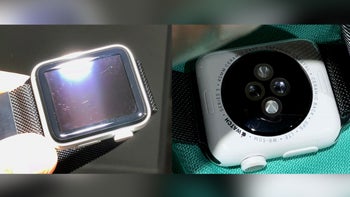 A Canadian man is suing Apple over scratches on his ceramic Edition
Apple Watch
, that he claims are the result of a design flaw. The man is also accusing the company of false advertising, because the Apple Watch is being marketed as "
brilliantly scratch-resistant"
on Apple's official website.
As first reported by
iPhone in Canada
, 21-year old Dean Lubaki, who last year bought a 42mm ceramic Edition Apple Watch with a Milanese Loop, has now filed a small claims court application against Apple. Lubaki claims that the watch band he chose has caused abrasions on the wearable, due to its back being magnetic.
"The fact that the back of the Apple Watch attracts the Loop and creates abrasion without action for the consumer is a design flaw. Same abrasion can occur on the screen when the strap is removed to change straps. Again, nowhere Apple says that the loop may damage the watch,"
Lubaki explained in a letter to Apple CEO Tim Cook.
The man says that he's already tried getting a replacement from his local Apple store, where his request was denied, despite him having also purchased AppleCare+.
According to
iPhone in Canada
, Lubaki has also taken offense to Apple's marketing for the smartwatch, which includes the phrase
"brilliantly scratch-resistant".
"Apple has contradictory statements on its website about the Apple Watch Edition Series 3: Apple claims it is "Brilliantly scratch-resistant" but also later on the product page, states that it has "a refined finish that won't scratch or tarnish.

There is no clarity on what part of the said watch are resistant or won't scratch or tarnish.

In addition to that, Apple sells the black Milanese Loop, that has "An additional diamond-like carbon (DLC) layer" and will damage the watch because of the DLC,"
Lubaki said for
9to5Mac
.
Lubaki has since been contacted by Apple, who offered to replace his damaged Apple Watch, but he declined the offer, opting to pursue his court application instead.