Apple Watch could be banned in the US over pulse oximetry patent infringement
11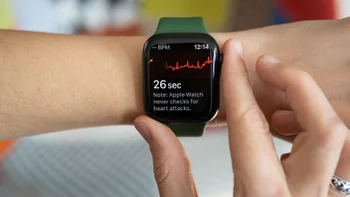 In the constant war called "technology patent infringement,"
Apple
often fights several battles at once on many different fronts. The latest such battle seems lost, at least in its first encounter, and it could lead to the ban of Apple Watch Series 6 and newer models in the US!
In 2021, Masimo, a company that makes medical-grade gadgets, sued Apple, saying that the blood oxygen monitoring feature of the Watch Series 6 broke five of its patents for pulse oximeters. Yesterday, a judge from the US International Trade Commission (ITC) ruled that Apple did in fact break one of Masimo's pulse oximeter patents.
Even though Apple wasn't found guilty of patent infringement on the other four patents, the US International Trade Commission (ITC) will now decide whether to ban the import of Apple Watch models that can monitor blood oxygen. The final decision is expected to be made on May 10th.
"We are happy that the judge recognized Apple's infringement of Masimo's pulse oximetry technology and took this critical first step toward accountability,"
said Masimo CEO Joe Kiani in a statement.
"Today's decision should help restore fairness in the market. Apple has similarly infringed on other companies' technologies, and we believe today's ruling exposes Apple as a company that takes other companies' innovations and repackages them."

While the citation above seems pretty harsh, especially the part accusing Apple of repackaging other companies' innovations, there are serious implications that could take place if the ruling holds. Here's what Apple has to say about it:
"We respectfully disagree with today's decision and look forward to a full review by the Commission."
It's pretty hard to imagine that Apple's wearable models from the past few years could be banned in the US, though. The ruling would probably be taken to a higher judicial institution and also appealed afterward. The most likely outcome would be a big financial penalty, with Masimo getting a huge chunk of money. We'll be monitoring the situation closely and reporting on any further developments.