Apple now offers a four-month free Apple Music trial for US military and veterans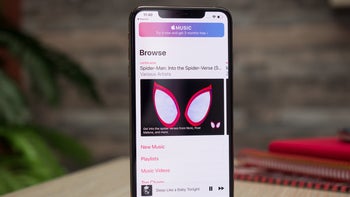 Apple
now has a new promotion on its Apple Music subscription, and it is a free four-month period for US military and veterans,
reports 9to5Mac
. This offer is still available despite the July 4th celebrations have already ended.
US military and veterans can benefit from a four-month free trial of Apple Music
If you're not a part of the US military or a veteran, you can benefit from a three-month free trial, again under the conditions you've not been subscribed to the service before.
On the page, mentioned above, you need to sign in with an ID.me account if your a part of the US military or a veteran and the offer can be yours. Keep in mind that after the trial period ends, the Apple Music subscription will renew at its standard subscription rate of $9.99 a month. In case you don't want to be charged, you need to cancel the service before the trial expires, and more specifically, 24 hours before its end.
The most recent improvement we saw with Apple Music is the fact it now supports
Spatial Audio
, using the Dolby Atmos technology. It basically means that the sound will seemingly come from invisible extra sources instead of just from the two speakers of your device.
This normally works so effectively because of the clever software that Dolby Atmos uses. It's known as "virtual surround sound". If you're interested in the Spatial Audio feature, you can also read our detailed
explanation of Spatial Audio and our impressions on it
.