An iPhone with an in-display fingerprint scanner may be coming... exclusively to China
26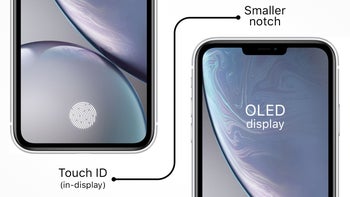 With the launch of the iPhone X, Apple ditched the physical home button to deliver a bezel-less design befitting of the 10th anniversary of one of its most iconic product lines. Alongside the home button, however, Apple also ditched Touch ID, which relied on the fingerprint scanner housed in the home button on the iPhone. It was superseded by Face ID, which the company painted as the future of biometric authentication on portable devices, and is currently available on every iPhone from the X up, including the budget iPhone XR.
Many eyebrows were raised when Apple seemingly turned its back on fingerprint scanners for good. The technology was just entering a new stage with the introduction of in-display implementations, which we now see have gotten very quick, very reliable, and very popular. Apple, however, is not a company to easily backpedal on decisions like that, so it was widely accepted that we won't be seeing an iPhone with a fingerprint scanner ever again.
Surprisingly, news broke today that Apple is actually planning to release an iPhone model with an in-display fingerprint scanner... exclusive to China. According to a new report by Chinese outlet
The Global Times
, Apple is gearing to release an affordable iPhone with an in-display fingerprint scanner—which entails an OLED display—in China. This is not very characteristic of the company, but is a very interesting development that could indicate a shift in how Apple does business abroad.
The new phone will reportedly remove Face ID, the facial recognition system for the iPhone, and instead employ an under-display fingerprint function, news site caijing.com.cn reported, citing sources on the upstream industry supply chain. An industry insider revealed that this is likely to "save on costs."
A structured light laser emitter, the major component of Face ID, would cost several hundred yuan, said a Beijing-based representative who preferred to be anonymous. He told the Global Times on Monday that "only Apple can afford it but that would also affect its sales."
Prior to the launch of the iPhone X in 2017, Apple was rumored to have been experimenting with various in-display fingerprint scanning solutions, but ultimately ditched the idea in favor Face ID for reasons not entirely clear.
The return of Touch ID?
The
Global Times
report suggests a couple of interesting things, provided that it's accurate. First off, it suggests that Apple has decided to go back to Touch ID for this particular model, because it is cheaper than the TrueDepth camera needed for 3D face recognition. On the other hand, an in-display fingerprint sensor requires an OLED display, so this phone will have one, though the current "budget" iPhone model, the XR, has an LCD display with Face ID. This is not entirely surprising, as Apple has been rumored to be moving away from LCD for good, starting next year.
Another curious assumption that we can make from this report, is that this mysterious iPhone model may have a smaller notch. After all, Apple's justification of the notch was that it housed the many sensors needed for 3D face scanning – something that won't be needed on this phone. Furthermore, since it won't have a physical home button, it would be relatively safe to assume that it won't have big bezels either.
So, a supposedly affordable iPhone with thin bezels, a smaller notch, an in-display fingerprint scanner, and an OLED display? That's what many people have been asking for, so it is rather unfortunate to hear that it may be exclusive to the Chinese market.
On the other hand, this comes as little surprise in light of the recent decline in iPhone sales in China, which was further aggravated by the 18-month trade war between the US and China. According to
The
Global Times
, Chinese users prefer smartphones priced at around 5,000 yuan (about $730), which is what most home-grown companies are aiming at for their premium phones. Not to mention that at this price point, users are getting the latest technological bells and whistles, like pop-up cameras, sliding displays, in-display fingerprint scanners, the lot. That said, it would be interesting to see what Apple comes up with to entice smartphone users in China to switch to this rumored new iPhone model.