Upcoming iPad Pros may change the way you use your tablet with a keyboard
14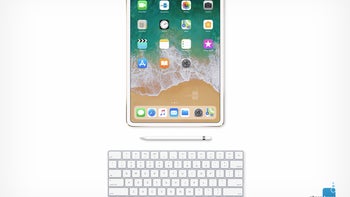 The new crop of
iPad Pros
is expected to flaunt much thinner bezels and do away with the 3.5mm headphone jack, but they may have another interesting surprise in store for us – a redesigned and repositioned Smart Connector.
If you're wondering where the Smart Connector is on current iPad models, it is positioned on the left side (when the device is held in portrait orientation), and looks like three dots. With the 2018 iPad Pro models, however, the connector is expected to change both its location and design, which could allow for some interesting new things, such as docking the iPad vertically into a Smart Keyboard.
The problem with Face ID on the iPad
An iPad with Face ID, no physical home button, and slim bezels, has been rumored for quite some time now. Several changes introduced in iOS 12 for iPads, including a host of
gestures ripped straight from the iPhone X
, seem to corroborate the many reports claiming that a bezel-less iPad with gesture-based interface is coming. Furthermore, even more recently, a developer shared
proof that upcoming iPad Pro models will support Face ID
, which has even opened the floodgates for speculation about a "notched" iPad.
New iPads getting Face ID is great and all, but when it is the only way to unlock the device, it poses a rather significant problem in regular use. Unlike smartphones, tablets are very commonly used in landscape mode, especially with a keyboard. And the problem with Face ID is that it doesn't work when the cameras are turned to the side. There were rumors earlier this year that iOS 12 may introduce Face ID support in landscape mode, but subsequent reports decisively suggested otherwise.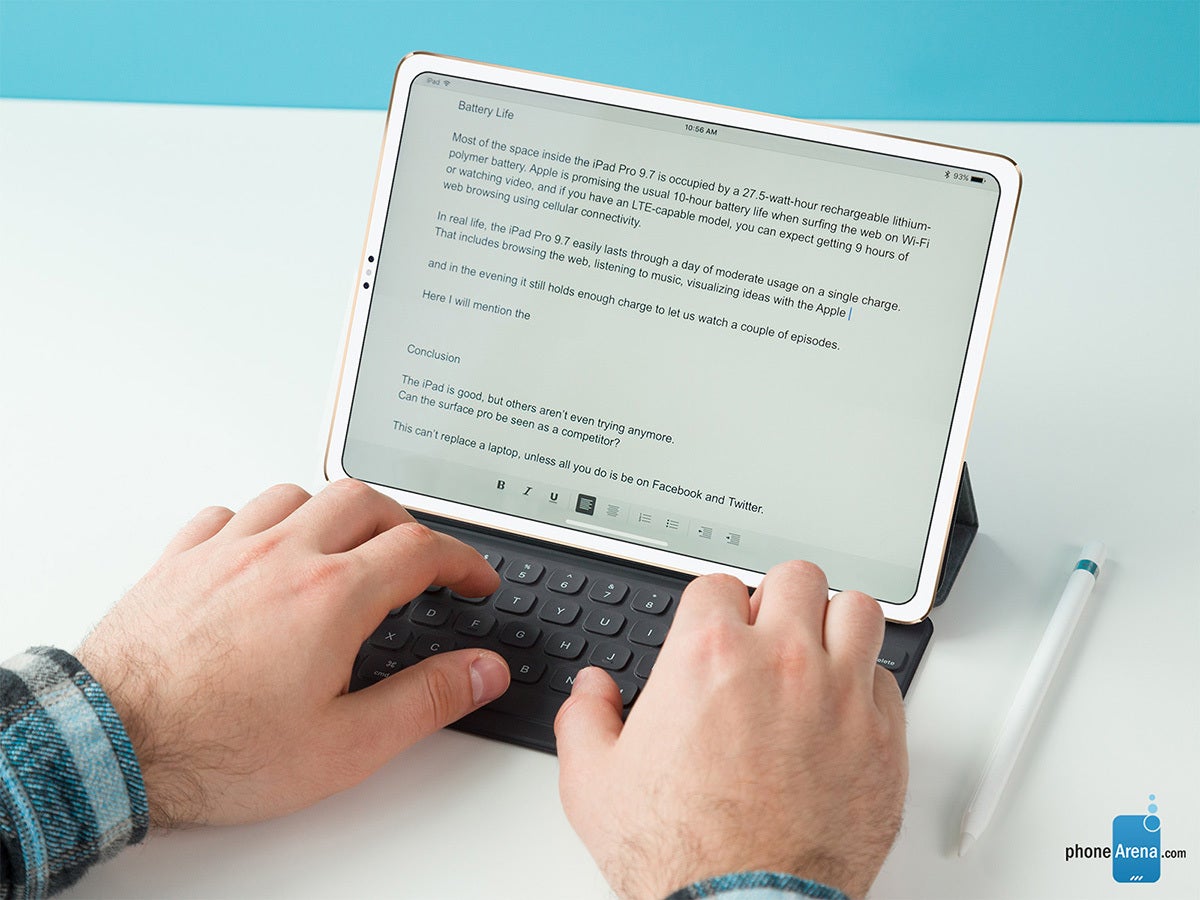 iPads are commonly used in landscape mode, especially when connected to a keyboard
It was initially thought that the TrueDepth camera could be enabled to do 3D face scans with the iPhone X in landscape orientation through a software update, but it seems like there may be hardware limitations preventing this from happening. Due to the way the various sensors and cameras are placed in the iPhone X, specifically the dot projector, the device can recognize your face only when holding it in portrait mode (which is the most common way to hold a phone anyway).
Part of the problem is that the dot matrix is a unique pattern that's bound to the iPhone's hardware key, and when you hold the phone any other orientation, the pattern is projected onto your face in a completely different way, preventing Face ID from recognizing you.
Now, there may be ways to make it work through an update, but all evidence suggests that this isn't happening in iOS 12. Furthermore, new information has surfaced that offers a glimpse at how Apple intends to tackle the problem on the new iPad Pros.
New iPad Smart Connector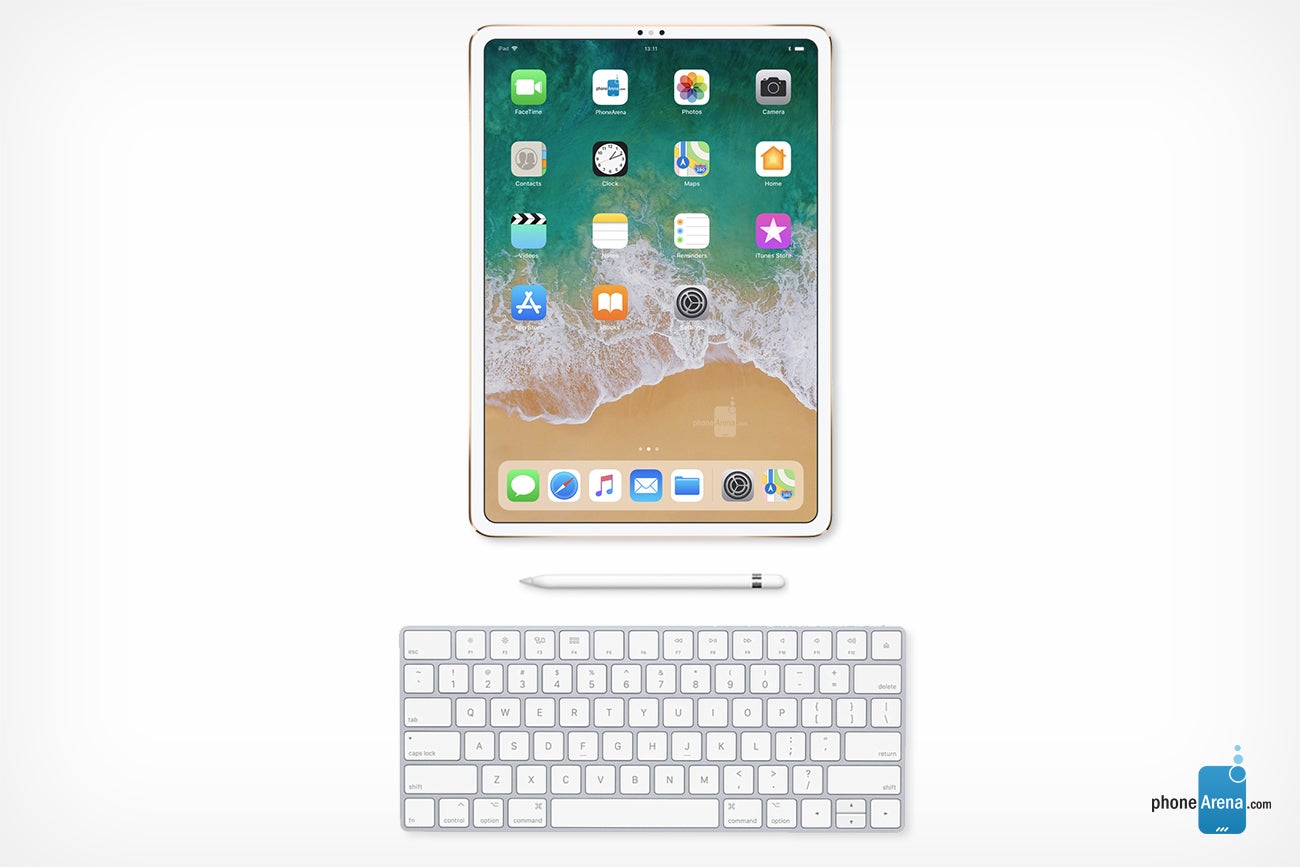 The new Smart Connector will reportedly enable new iPad models to be docked onto a keyboard in portrait orientation
A recent report from
Macotakara
suggests that new iPad models will have a redesigned and relocated Smart Connector that would allow them to connect to Apple's Smart Keyboard in
"new ways."
The new Smart Connector will allegedly move from its current position on the iPad's left side, to "the lower rear side – close to the Lightning connector." What's more, it will look quite different from its current three-dot design, and instead take the form of an oval indentation on the device's back.
The report goes on to explain that
"the next iPad Pro Smart Keyboard may be changed to vertical position specifications."
Although we can't say for sure what that means exactly, it is likely implying that the new iPad Pros will be able to vertically dock into the Smart Keyboard.
Another interesting tidbit of info, seemingly corroborating the report, comes from reliable leakster @OnLeaks, who earlier today shared the following alleged CAD model of an upcoming iPad Pro model:
Just got my hands on a purported 2018 iPad Pro CAD showing a unknown thing located on the back of the tablet... NB: I can't confirm the accuracy of that CAD I share for discussion purposes only because of that weird and yet unexplained detail... pic.twitter.com/9R7jeLDfLV

— Steve H. (@OnLeaks) July 30, 2018
Although, as @OnLeaks himself says, the accuracy of this CAD can't be confirmed, it's worthy of discussion, as it is very similar to another image included in
Macotakara's
report. That's two independent sources confirming the same detail.
The new Smart Connector, as depicted in the CAD model, looks like a lozenge-shaped indentation on the lower back of the iPad, near the Lightning port. If the image is accurate, it looks almost as though an accessory could magnetically latch onto it. The new design is quite different from the current, three-dot one, which can't be a coincidence, though we don't know the exact reasons behind this decision.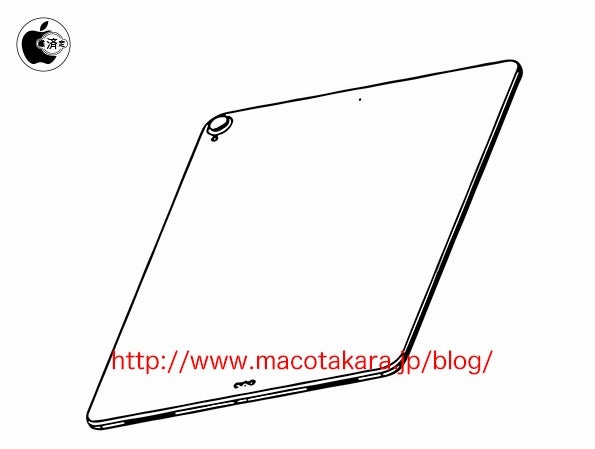 Macotakara's report includes an image, which shows the Smart Connector in a new location
Being able to dock the iPad both into a keyboard in both landscape and portrait orientations seems like an interesting premise, and one that would partially solve the Face ID problem. However, those people who'd still rather use the device in landscape mode may have to use alternative ways of unlocking it. It's too early to say whether Apple has devised another way to help in this regard.
But with all that said, actually using an iPad with a keyboard in portrait mode would be an interesting experience. It would be great for web browsing and quite alright for text editing and, well, most things you could do on it anyway. We're certainly looking forward to seeing how that pans out later this year.
ALSO READ: