This is what a bezel-less iPad with Face ID could look like, and it doesn't need a notch
33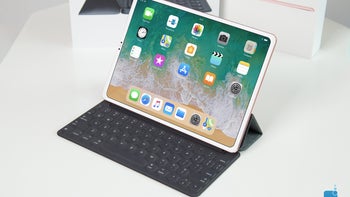 An iPad with Face ID, or at least a model without a physical home button, is very likely to come out this year or next. Several changes introduced in iOS 12 for iPads, including a host of gestures straight from the iPhone X, seem to corroborate the many
reports
claiming that a bezel-less iPad is coming. Furthermore, well-regarded market analyst Ming-Chi Kuo from KGI Securities has gone on record to say that he believes upcoming iPad Pro models will support Face ID, which has opened the floodgates for speculation about a "notched" iPad.
Having read through countless reports and leaks, we thought we'd offer our two cents and explain why we
don't
think the iPad needs a notch, and why we
do
think an iPad with much narrower bezels and no physical home button is very mcuh a possibility.
Why the iPad doesn't need a notch...
When it comes to smartphones, the notch is not a cosmetic choice, it is there to serve a purpose. Or at least, it's there to serve a purpose on the iPhone X, as it has no other bezels. The notch is simply a waning top bezel that houses an IR camera, a flood illuminator, a proximity sensor, an ambient light sensor, a speaker, a microphone, a front-facing camera, and a dot projector. That's
eight
sensors total, and there's still a bit of room left to the sides for the "horns" to display the time, signal, and other notifications.
The iPad is a two-handed operation, you need some bezels to be able to hold it
If Apple was to bring Face ID to the iPad, you would need only four of those sensors and the iPad is much, much bigger. So, even if there's a notch, it could be smaller than that of the iPhone X, and it would take an even more insignificant portion of the screen. But a notch would be needed only if the bezels are so slim that there's no room left for these four sensors, and we don't think it would be such a great idea to have an iPad with bezels as slim as those of the iPhone X.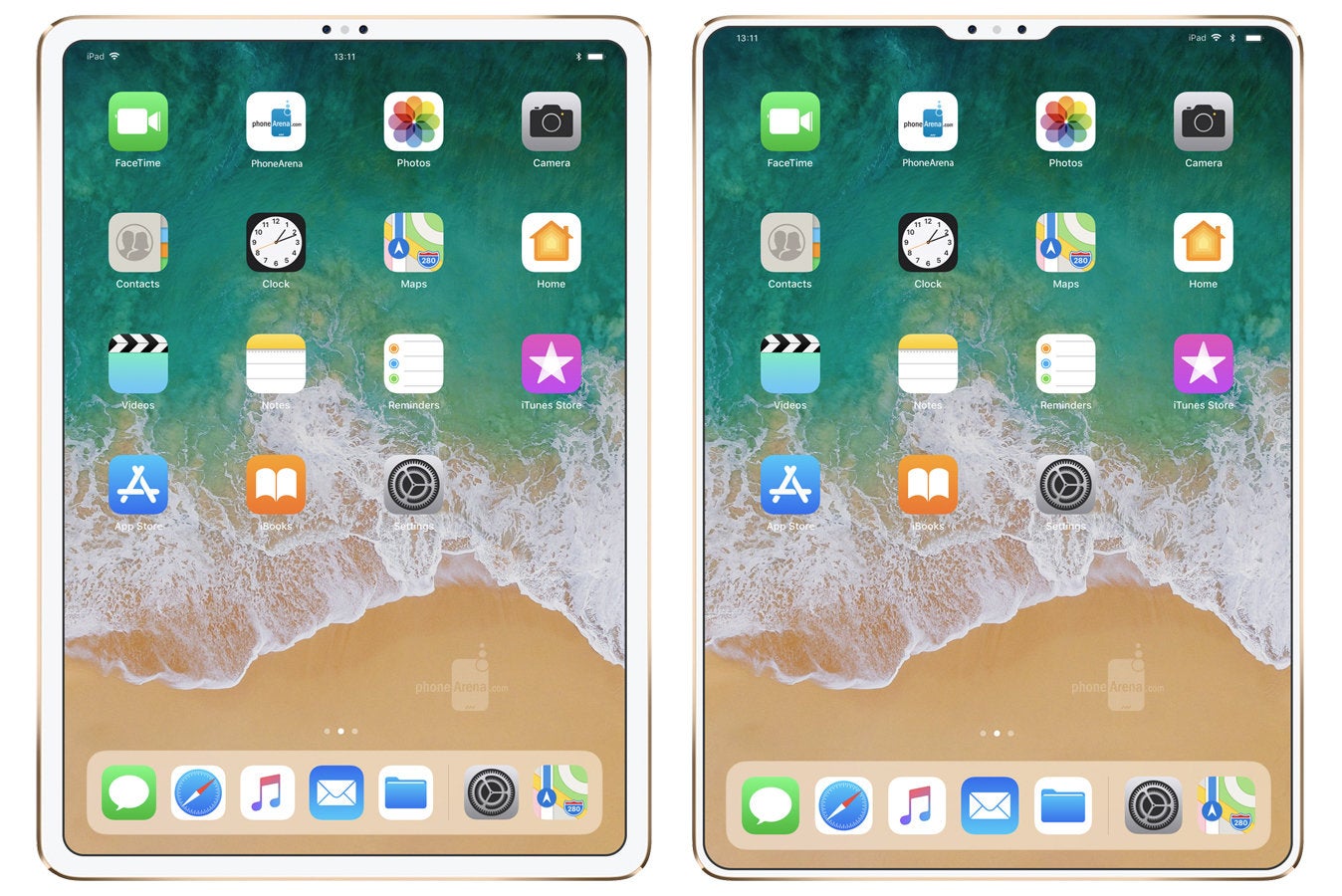 A bezel-less iPad with a notch and extremely thin bezelsis possible, but how do you hold it? No amount of palm rejection would prevent accidental interactions with the UI. On the other hand, an iPad with all-around much thinner bezels and smart palm rejection could work great and still have enough room in the top bezel for the TrueDepth camera. Of course, to achieve either design, Apple would need to use flexible OLED displays, which would increase production costs.
The iPad is a two-handed operation, you need some bezels to be able to hold it comfortably. Palm rejection on current iPad models works wonders, but if you narrow the bezels so much as to match those of the iPhone X, you're asking for trouble. A tablet with such thin bezels would look great, no doubt, like a floating display, but users would often cover and/or involuntarily interact with portions of the UI, which would then lead to endless frustration on the user's part.
However, smart UI design, in combination with advanced palm rejection, could potentially allow Apple to reduce the bezels of the iPad to be about as thick as the notch of the iPhone X. This may not sound like much, but it would be a huge improvement over the current iPad design,
and
it would allow for effortless two-handed use of the device.
...But it may get a notch anyway
One of the minor UI changes that iOS 12 introduced is a subtle adjustment to the status bar, wherein the clock has been moved to the left-hand side from its original central position. This change now leaves a sizeable empty area in the middle that could easily be occupied by a display notch in a future upgrade. Furthermore, the notch has become synonymous with the iPhone X, and Apple has been deliberately using it as a brand recognition tool. Considering this, it wouldn' be too surprising if Apple decided to stick with the notch and make the new iPad models stand out amidst an ocean of samey-looking slates.
The notch is not a cosmetic choice, it serves a function
This possibility raises many questions, however, such as how thick the rest of the bezels will be, and how two-handed use and accidental taps would be accounted for. Of course, Apple engineers may be ahead of the curve with an amazing new solution that shifts UI elements around to make sure that nothing is in the way of the user's palm, but that's conjecture at this point.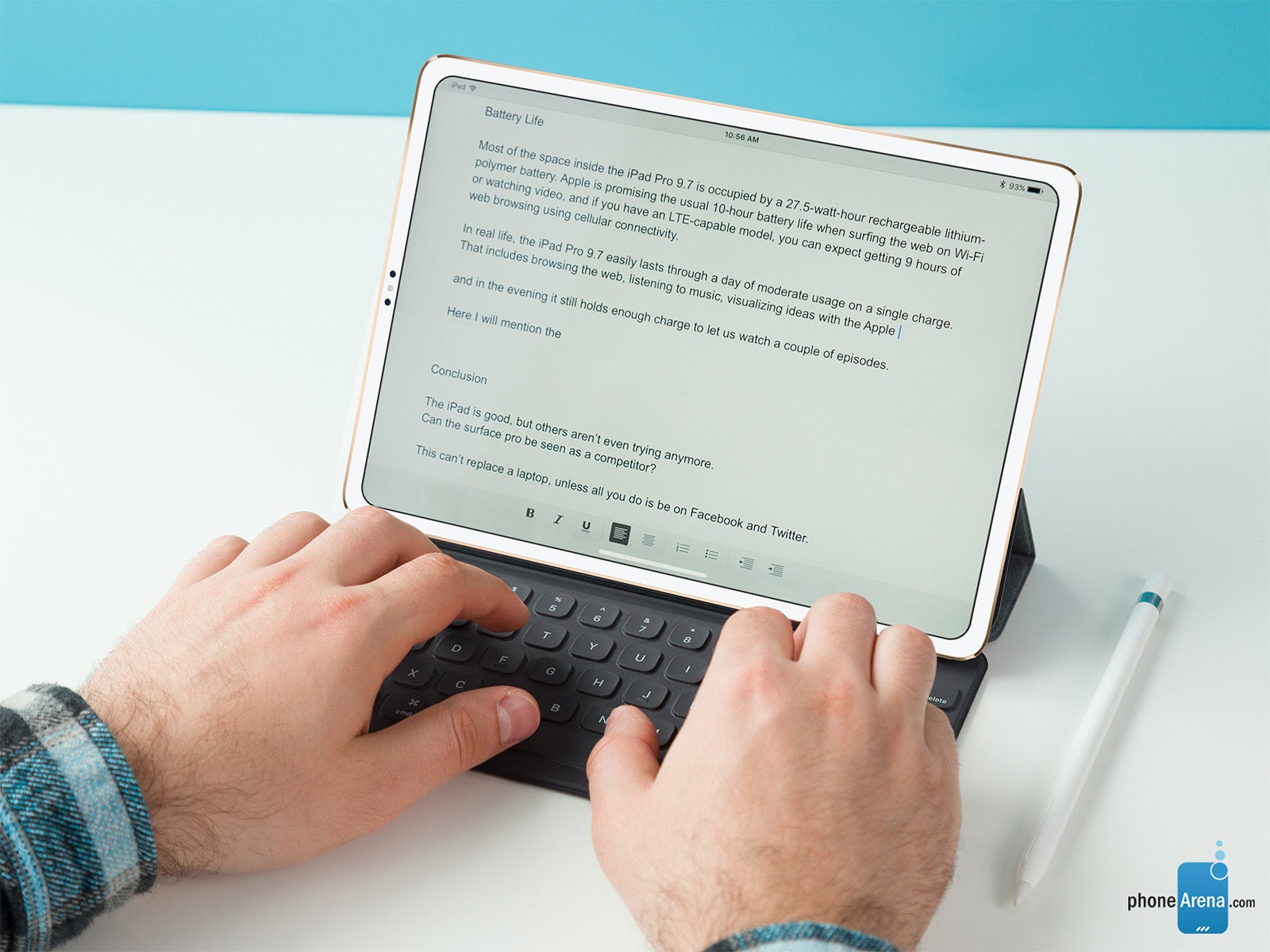 A bezel-less iPad would look awesome in white, but if there's a notch, chances are, there won't be a white color option. Apple, and most other companies that use this design (though there are exceptions), opt to keep the front of their phones black, so that the notch can blend in more with the frame and parts of the interface.
Another thing that we didn't go into too much detail is the fact that Apple would have to use an OLED (or
microLED
) technology to achieve this design, as the display needs to be flexible and curve to the sides to actually allow for the elimination (or reduction) of the bezels. But seeing as how the iPhone X already has an OLED display, this only seems like a natural evolution for the iPad lineup as well.
So, what do you think of these designs? Do you like the notch-less iPad better or the notched one? Would you buy either? Tell us in the comments below!
Disclaimer

: The images featured in this material have been made by PhoneArena and are based on preliminary information about the respective device(s), such as, but not limited to, factory CAD blueprints and live photos of the device(s), or accessories thereof. As such, the images found herein may not be fully representative of the final design of the device(s).
Recommended Stories