ZiiLabs sues Apple and Samsung, claims both infringed on ten patents
12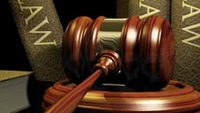 Here is an amazing sight to see in a courtroom. Imagine Apple and Samsung attorneys and executives sitting on the same aisle of the courtroom for a patent infringement trial. Judge Judy would be so shocked that she might keep her tongue still for 10 seconds. Both rival firms are being accused of infringing on patents owned by ZiiLabs, a subsidiary of Creative Technology.
Both Apple and Samsung are accused of infringing on ten patents each, and claims that a SoC design made by Samsung and used by both firms, is responsible. ZiiLabs is claiming that the following patents were infringed on by both tech titans: Patent No. 5,831,637 for "Video stream data mixing for 3D graphics systems," Patent No. 5,835,096 for a "Rendering system using 3D texture-processing hardware for accelerated 2D rendering," Patent 6,111,584 for a "Rendering system with mini-patch retrieval from local texture storage," Patent No. 6,650,333 for "Multi-pool texture memory management," Patent No. 6,683,615 for "Doubly-virtualized texture memory," Patent No. 6,977,649 for "3D graphics rendering with selective read suspend," Patent No. 7,050,061 for "Autonomous address translation in graphic subsystem," Patent No. 7,187,383 for "Yield enhancement of complex chips," Patent No. 7,710,425 for "Graphic memory management with invisible hardware-managed page faulting," and Patent No. 8,144,156 for "Sequencer with async SIMD array."
Apple has used the in-house custom designed and Samsung produced A series of SoCs since the A6 on the
Apple iPhone 5
. Previous chips were produced by Samsung based on Apple's modifications of existing architecture. Taking both into consideration, it should be interesting to see what the fuss is all about. ZiiLabs wants past and future damages along with injunctions against both firms. No date has been set for a hearing.
In the suit, ZiiLabs is going after many Apple and Samsung devices. The suit mentions the Apple A4, A5, A6, A6X, and A7 chips and the devices that ran them. And just about every Samsung Galaxy device is mentioned by ZiiLabs in its filing, which you can check out for yourself below.
source:
Scribd
via
AppleInsider
>