ZTE outs Nubia Z7 and its mini: а 5.5" QHD flagship, and an affordable 1080p phone with great specs
20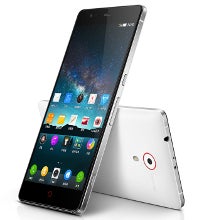 ZTE went on stage today, unveiling its much-rumored new crop of handsets in its upscale Nubia line. Just as we heard before, there is a
Nubia Z7
in play, ready to take the torch from the current
Nubia Z5
flagship, but ZTE will also flank it with the Z7 Max and Z7 mini. Surprisingly enough, the first two don't differ in screen size, while the specs difference is very mild from one model to another, too.
Starting with the Nubia Z7, we have to tell you that this thing is no less decked out than LG's
G3
flagship, for instance, It has the same 5.5" Quad HD screen with the splendid 1440x2560 pixels of resolution, quad-core Snapdragon 801 processor, 3 GB of RAM, 32 GB of storage, 13 MP camera with optical image stabilization on the back, 3000 mAh battery, and 4G LTE connectivity. As you can expect, it is also a dual SIM LTE device, making it the Asian user's dream handset.
ZTE lists 139 x 71 x 9 mm for the Z7 dimensions on its website, which would make the phone more compact than the G3, while carrying the same screen size, but on another section of the Z7 product page it's shown with 6.03 x 2.98 x 0.35 inches (153.2 x 75.7 x 8.9 mm) size, and those seem to be the more credible numbers. The Z7 would sell for the respectable $550 / €410 equivalent when it hits shelves in its native China.
Contrary to its name, the Z7 Max also has a 5.5" display panel, but it comes with 1080p resolution. The overall size grows, however, to 152.7 x 76 x 8.7mm. There are also 2 GB of RAM, instead of 3 GB, and these seem to sum up the difference between the Z7, and its cheaper Max variation. We say cheaper, as the Z7 Max will go for the fairly modest $320 / €240.
Last but not least is the Z7 mini, which comes with a 5" Full HD display and plenty of flashy colors for the exterior, but other than that it still sports the fast Snapdragon 801 processor, 13 MP rear camera, and a 5 MP front-facing shooter, too. The internal storage amount drops to 16 GB, but since all three phones have a microSD slot, it's not a big deal. Surprisingly, however, the "mini" is quite elongated, taller than even the Z7 Max, at 140.9 x 69.3 x 8.2mm. The Z7 mini has a smaller, 2300 mAh battery, and a very affordable price tag of $240 / €180 without a contract. Only the camera of the Z7 seems to sport an OIS mechanism, to set the flagship apart. Those are the prices for the China launch, though, and it's not clear yet if they will translate to similar tags worldwide, if the new Nubias make it outside of their homeland. What do you make of ZTE's new crop?