ZTE SPRO 2 hands-on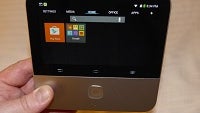 We have seen the idea played out with smartphones, a fully featured handset that also included a built-in projector in order to blast the device's display on to the wall, like the
Samsung Galaxy Beam
. The trade-off was almost always battery life, and limited resolution of the projected image, and other components played second fiddle to the elephant in the room, that being the big projector lens announcing itself to the world.
ZTE took the most desirable feature sets to a mobile projector idea, and came up with a connected solution that will certainly find appeal to the mobile businessperson, but also the consumer segment. ZTE decided to build on evolving what it had created with its LivePro hotspot projector which has been available with Sprint since July last year. The LivePro is launching nationwide as a Wi-Fi only model on January 6th, and has been rebranded the SPRO.
At CES 2015, ZTE took the covers off the SPRO 2, a mobile hotspot running Android and supporting LTE-Advanced and data speeds up to 150Mbps.
Design
For a compact projector, there is only so much you can do style-wise, since cooling for the projector is an important consideration. Form follows function in this application. The interface is on top, and the data networking ports are on the back.
The ZTE SPRO 2 has a beefy 6300mAh battery on board, so the 1.2 pound (550 gram) weight is understandable, but given its design purpose, we would not call the SPRO 2 heavy. Its size will fit handily in any bag or briefcase. That battery will offer up 3 hours of continuous projector time, or 10 hours of hotspot connectivity for up to 8 users.
Display
The 5-inch LCD provides 720p HD resolution, and is situated atop the projector to allow easy access to functions while preparing for a presentation, or getting ready to stream a movie off Google Play.
Interface
ZTE does not have an official name for the interface on the SPRO 2. Internally, the company calls it "ZPath." To anyone that follows mobile to a degree, it looks like a Windows Phone-esque tile treatment to Android.
Operation is smooth, and the interface is well suited to the function of the SPRO 2, a presentation and media projector.
Projector
The SPRO 2 does not have a camera, but it has a bright, 200 lumens DLP projector. It can generate images from 5-inches up to 120-inches diagonally with 720p HD quality. The lamp should last at least 20,000 hours, enough to watch the lone season of Firefly roughly 1,400 times.
Processor and Memory
The ZTE SPRO 2 runs Android 4.4 handily via a 2.1GHz quad-core Qualcomm Snapdragon 800 CPU and Adreno 330 GPU. Tasks are managed with 2GB of RAM. The SPRO 2 has 16GB of storage which is expandable with micsoSD cards up to 2TB.
There is a USB 3.0 port on the back which will allow devices to connect. There is an HDMI port too, so you can connect a gaming console and project the action for all to see.
Expectation
The ZTE SPRO 2 will be available through "major US wireless carriers in 2015." However, who those carriers are has not been revealed. An exact date of availability is pending, as is an expected price. However, since the Wi-Fi only SPRO is available for pre-order for $399 retail, we expect that carrier pricing will follow common retail or contract pricing schedules.
The SPRO 2 is a smart projector, and a smart device. It is a mobile hotspot, and a big screen media device just about anywhere you can project an image.
Recommended Stories