ZAGG HzO nanocoating technology demonstration
3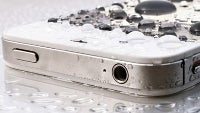 Water and electronic gadgets do not get along well, which is why if your smartphone gets dropped in the pool, chances of it surviving the dunk are slim. Thankfully, the guys at ZAGG are trying to solve that with their HzO hydrophobic nanocoating, which can protect our electronics from water damage.
At MWC 2012, we got the chance to see the technology in action: several smartphones, as well as a Samsung tablet, which had been treated with HzO, were placed in a bowl of water. Sure enough, once they were out, they worked as if nothing had happened with water droplets sliding right off. Pretty impressive, isn't it? But it is about to get better. As the company representative said, ZAGG is
"working with the manufacturer"
in order to get the chemical applied to the device's internals so that its warranty would not be voided. The battery, which is also susceptible to water damage, gets a protective coating as well. Who knows, the HzO nanocoating may one day come pre-applied to our smartphones and tablets, so they will be protected against water damage right out of the box.
Care to see how HzO works? Then go ahead and check the video that we have included below. Of course, do not hesitate to share your thoughts with us in the comments section.