Your smartphone is your hotel room key at 10 Starwood properties
3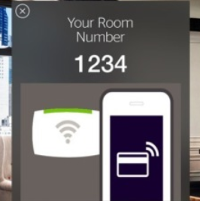 Earlier this year, we told you how
Starwood had started testing the use of smartphones as hotel room keys
on some of the company's properties. As we told you back in January, the new technology is being employed by the W Hotels and Aloft hotels. These two Starwood brands are known to attract a well-off crowd of tech-savvy travelers.
Currently, the technology is being used by ten hotels in major cities such as New York, LA, Beijing, Hong Kong and Doha in Qatar. Individual hotels that are part of the project include the Aloft Beijing, Aloft Cancun, Aloft Cupertino, Aloft Harlem, W Doha, W Hollywood, W Hong Kong, W New York-Downtown, W Singapore and Element Times Square. By early 2015, Starwood expects 140 units to allow a traveler's smartphone to be used as the key to a room. And most of those rooms will still be under the W Hotels and Aloft Hotels name, along with the Element brand.
The traveler will have to register his phone with Starwood just one time. Then, 24 hours before the traveler is due to arrive at the hotel, he will receive a message allowing him to opt-in to the keyless program. Once the weary traveler has arrived at his destination hotel, ready to unpack and take a load off, a push notification will alert him that he is checked in. This allows the guest to skip the front desk.
Once checked in, the traveler opens the Starwood Guest Preferred app on his phone. With the Starwood app open, and Bluetooth enabled, the phone is held up to the lock on the hotel room door, until a steady green light is seen.. That means that our worldly hero has successfully used his handset to gain entry to his room.
While the old-fashioned key system seemed to work, there might be some advantage to being able to open your room with a smartphone. After all, you're more apt to lose your keys than lose your phone.
source:
Engadget