Your Spotify playlist could soon be streamed through the speakers of your Uber ride
2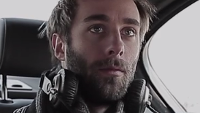 Imagine this, you are a passenger in a car you ordered via the Uber app. You turn on the radio and you hear one of your Spotify playlists streaming over the car's radio. This could soon be reality as there is speculation that the two companies are about to announce a partnership, perhaps as soon as this morning. Leaked screenshots show how this would work.
Uber drivers are being asked to update the sound system on their car so that it can connect to the driver's Uber-provided phone. A screenshot shows what the UI will look like. The name of the song that is currently playing, and the name of the artist are both shown along with several control options such as shuffle, rewind, pause and fast forward. What is missing is the name of the service, which is expected to be Spotify.
Uber will have a conference call on Monday during which time CEO Travis Kalanick and a "Special Partner Guest" will announce a "first-of-its-kind partnership." And there is a clue. The musical measure at the top of the invite to the conference call, tells us that this partnership deals with tunes.
About 11 months ago, a Vimeo video was posted showing how this would all work. The video shows a guy listening to a Spotify playlist, using the Uber app to call for a ride. Once he gets in the car, his music is heard over the vehicle's radio. The video is called Spotify Uber, and you can watch it by clicking on the video slideshow below.
source:
MoonRiverProd
,
TechCrunch