Your OnePlus' battery draining? New touch screen drivers might be to blame
9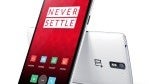 Not too long ago, a number of OnePlus One owners complained of touch-screen issues with the smartphone - from slow response to not working at all. The company told them it's working with Synaptics, a go-to provider of touch controllers, to address the issue, and a fix was baked into a CM12.1 update for the device. Alas, although the update did manage to wrangle the touch screen into submission, it introduced problems of its own.
The way our sources put it, the new touch screen drivers cause a noticeable battery drain. Cyanogen ended up reverting the firmware that contains them, but it doesn't seem to be Cyanogen at fault here. A XDA developer experimented with the drivers and found out that they introduce the battery drain in older Cyanogen builds alike.
It has to be noted, still, that the problematic touch screen drivers were incorporated in a nightly build available to those interested in trying it out, rather than in an official stable build that's supposed to be bug-free. So chances are most OnePlus owners won't be affected, unless they are trigger-happy with Cyanogen updates. Understandably, OnePlus and Cyanogen will be looking to fix the issue in time for the final software update.
No images
via
Ubergizmo