YouTube will start collecting donations for nonprofit organizations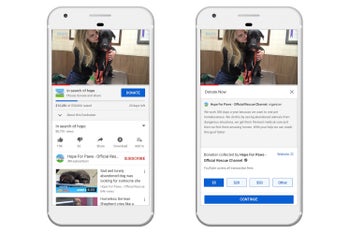 You can find anything on YouTube, including videos made by nonprofits to promote their campaigns. Now, YouTube has decided to give those organizations tools that will let you donate money to them while you're looking at the sad puppy eyes that made you do it.
The features are part of the new "YouTube Giving" suite that the company is offering to some YouTube creators and qualifying US-registered 501(c)(3) nonprofits. The suite includes the beta versions of Fundraisers, Community Fundraisers, Campaign matching and Super Chat for Good.
The features are pretty straightforward. Accounts that have the YouTube Giving suite available to them can create fundraising campaigns and embed them to their videos and live streams. This will add a "Donate" button under the video alongside a bar that shows how much funds the campaign has gathered so far and how much its goal is.
The Community Fundraisers will allow multiple creators to gather around the same cause and help collect donations for the organization that's spearheading the efforts. YouTubers will have the "Donate" button under the videos they release as part of the fundraiser.
Campaign matching is a tool that allows participating creators to match the donations the nonprofit is receiving through their videos, essentially doubling the donation of each viewer.
As the name implies, Super Chat for Good is a version of Super Chat, but for a good cause, and it will be available for eligible YouTube creators. During live streams on YouTube, viewers can send a Super Chat, which highlights their message and donates an amount of money the viewer has selected to the streamer. In the "for Good" version, the donated money goes to a nonprofit that the streamer has chosen in advance.
YouTube will handle the logistical part of the donations, which will take some burden off the shoulders of the nonprofits. To further help the organizations participating in the beta phase of the project, YouTube will cover all the transaction fees for the donations. There's no information about what those fees will be after that. YouTube Giving beta is currently limited to the US and Canada.