You can teach Windows Phone 8.1 to cuss
29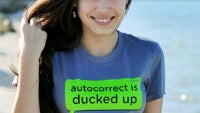 We've all had the same problem at one point or another. You are trying to send a message to a friend, and rather than what you had intended to say, your text ends up being autocorrected to something like, "That is some bull shot. He should be run out of town for the ducking shirt he did." Obviously, this is not the intended message, and it loses its meaning when you autocorrect the swear words.
Luckily, if you're a Windows Phone user, WP 8.1 will allow you to teach autocorrect to leave the cuss words alone, so you can keep the intent of your words intact. It is a bit of work though. We prefer when it is a simple toggle button to allow offensive words, like you would find in the Google Keyboard settings, but as long as the end result is some good old fashioned profanity, it's all good.
The way to do it is to write your filth, then edit the word that is autocorrected if needed and send your message. After fixing it or sending it a few times, your new obscenity will be added to the dictionary, but it will still autocorrect. After about 5 times, it will not only stop autocorrecting your expletive, but it will start to suggest it as a fix if you do accidentally type "ducking" or "butch". In one circumstance, it will even suggest an emoji based on the shirty word you write. So, happy swearing!