You can now send a message to President Obama straight from your Facebook Messenger
23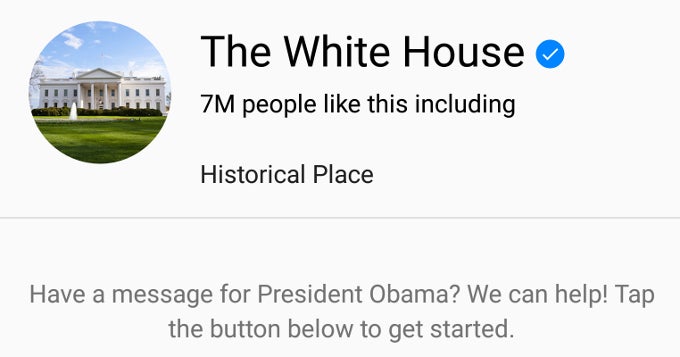 Throughout his mandates, President Obama and his team have built an image for him of being hip, tech-savvy, and down to earth. The natural progression of such a PR plan is, of course, to sooner or later move to the field of digital instant messaging.
There is the issue that handling chat requests from thousands of Americans at once is probably not a feat that can be accomplished by a correspondence team of mere mortals. But, thanks to the recent introduction of
Facebook chat bots
, it's now doable.
That's right – the White House now has its own Facebook Messenger bot. All you need to do to potentially, maybe get in touch with President Barack Obama is take out your phone and send a message to the official White House page on the social media.
No, you won't get to send selfies directly to
the President's Galaxy S4
. You will be interacting with a bot, which will take you through the process of entering your message and filling out your contact details. It will then be passed along to the presidential correspondence team and may even end up in the hands of President Barack Obama himself, as it is stated that he reads 10 letters from US citizens every night to stay grounded and in touch with the people. Even if your story doesn't get to the President personally, it may still end up being published on the White House's Tumblr blog — yes, there is one.
Do note, for those of you tempted to troll, that the messages received by any official White House social media profiles are subject to the Presidential Records Act and may be archived... for a long, long time. Just a heads-up.