You can get a new 32GB Samsung Galaxy S6 Edge for just $490 on eBay but there's a catch
27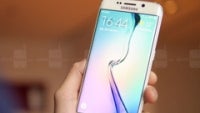 One of the best smartphones of 2015, the curved-screen
Samsung Galaxy S6 edge
, can be currently had for about $700 through official channels at regular prices. However, if you're willing to sacrifice the warranty, you can purchase a new factory unlocked Samsung Galaxy S6 edge with 32GB of integrated storage at just $490.
Obviously, you'll want to think twice before making this sacrifice and committing to a purchase. While modern smartphones rarely malfunction on their own, you'll have to cover the cost of any repairs yourself if you're unlucky enough to get your hands on the wrong unit.
If you just can't stay away from the 32GB Samsung Galaxy S6 edge at this discounted price, perhaps you'll want to consider getting a smartphone insurance plan from companies such as SquareTrade. For $69 per year, you'll not only be covered in case of malfunctions but in case of drops or spills as well.
Getting back to the Samsung Galaxy S6 edge, the handset probably doesn't require any introduction, as we've been over the specs and the features on countless occasions. In the odd chance that you don't know all that there is to know about the handset, make sure to head on over to our full
Samsung Galaxy S6 edge review
.
The version that eBay seller 232Tech is selling is the global unlocked model in either black or gold. As such, the device will work just fine on GSM carriers in the US such as T-Mobile or AT&T, but will be completely useless on carriers such as Verizon or Sprint. If this sounds like a good deal to you, then you'd better hurry, as the seller says that there are limited quantities available.