Yep, all US carrier versions of the Samsung Galaxy S III carry 2GB of RAM (song&dance)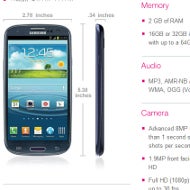 The rumor that
all US carrier versions of the Samsung Galaxy S III will carry double the RAM of the international version
totally materialized. We glimpsed quickly at the specs on Verizon, AT&T, Sprint, T-Mobile, and US Cellular websites, and all of them are listed with 2GB of RAM, making the rest of the world
but Korea
jealous with the versions that US got for a change.
Granted, the American variants are with a dual-core Snapdragon S4, instead of quad-core Exynos, but benchmarks show that it is probably not that much of a tradeoff, since the S4 is on 28nm, not to mention the multimode radios integrated with it.
The 2GB of RAM was said to be added in the last minute by Samsung, as it wasn't exactly sure what will be unveiled with
Android 4.1 Jelly Bean
, and wanted to future proof its best and brightest to date. As it turned out, they shouldn't have worried, as Jelly Bean doesn't require anything more than ICS does, but we as consumers profited in the end.