Yap says Americans hate voicemail
3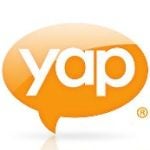 We need to preface this study by pointing out that Yap has an agenda. Yap offers a
voicemail-to-text
service, so it's in their best interest to paint voicemail as an antiquated and inefficient tool. Then again, people of any age are learning to prefer
text messaging
and email to lengthy voice communication.
Americans spend one billion hours per year managing their voicemail. The study found that cellular users are overwhelmingly annoyed with the process. Thirty-eight percent of respondents noted long and rambling messages as their primary complaint. We all have that family member or friend that leaves long-winded speeches in our voicemail. But we have to listen to the whole thing to make sure there wasn't something important at the end.
Another 15% cited the touch-tone menus as their primary complaint. Luckily for many, visual voicemail eliminates this part of the process. Thirteen percent complained that they had to grab paper and a pencil to write down the message, 12% complained that they felt obligated to call the person back, and 10% complained that they couldn't listen to messages in meetings or noisy environments.
We have to agree. Voicemail is a great means of communicating personal messages, but brief notes and long point-by-point ideas are much more effectively done over SMS or email. Particularly as more Americans adopt
smartphones
, we should feel more comfortable simply emailing each other.
source:
cellular-news
via
Textually