Yahoo Messenger app for video chat is extracted from a leaked T-Mobile myTouch 4G ROM
1

We recently
reported
that a Yahoo Messenger app had been released for the Apple iPhone equipped with video chat. Unlike Face Time, Yahoo's video chat service works just as well over 3G as it does over Wi-Fi. Although Yahoo's intentions as to when a version for Google's open source OS would be launched was not revealed, those willing to download a couple of files can warm up the front facing camera on their Android powered phone and start to video chat.
Thanks to MatthewJulian over at Xda-developers, a large file was extracted from a leaked T-Mobile myTouch 4G ROM. That's not the only gold discovered while panning through the ROM. On Monday,
we told you
how a 50 second video promo for the handset was discovered-also from the ROM.
Because the file is huge, it has been cut in two easier to digest slices. Take your Android browser and head to
Part One
. When you're done with that one, head over to-all together now-
Part Two
.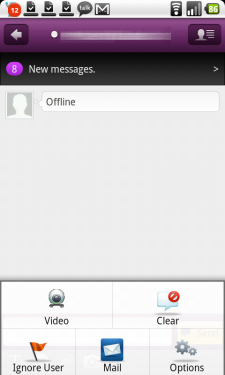 After the installation of the program, just remember that you have video chat on your phone. If you have your front facing camera on, telling your significant other that you're at the library when you are really at the local strip club is no longer going to work.
T-Mobile myTouch 4G Specifications
source:
AndroidCentralForums