Xiaomi's first MIUI tablet is... the Nexus 7?
9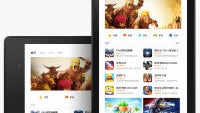 Xiaomi has been one of the fastest growing smartphone manufacturers in the world recently, but the company has not adapted its MIUI ROM to tablets, until now. Rumors have it that Xiaomi will soon be putting out a
phablet
, but it hasn't made its own tablet. It has optimized MIUI for tablets though, and the first compatible piece of hardware is the new Wi-Fi Nexus 7.
Xiaomi has optimized its MIUI ROM to be at home on the 7-inch tablet. The user interface still takes quite a lot of cues from iOS, especially in the MIUI store, but the software is finding its own footing. The iconography and store look like iOS, but the rest of the software is starting to look like its own entity. It's getting its own personality.
Xiaomi has been putting in a lot of work, so this isn't just a scaled-up version of the phone software. Xiaomi says this is a completely new architecture, offering native apps, system menus and new screen animations that have been optimized for both landscape and portrait views. Xiaomi is open to licensing the software to other tablet manufacturers, but it seems likely that the company is working on its own tablet.