Xiaomi to release gold edition of the Mi 5 later this week
5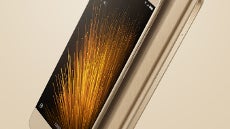 Though it was by no means the first gold handset
ever,
the champagne-colored
Apple iPhone 5s
seemed to start something of a trend in this regard. Since, many flagship smartphones have offered at least one shade of gold, and Xiaomi's
recently-released Mi 5
is no exception. Though pre-orders of the handset
began over a month ago
and the device has been out in the wild for a while now, the gold variant has continued to elude. Apparently, though, the gold Mi 5 will finally be joining us as of this week, with April 29th slated as the official date.
Like many top-end handsets, the Mi 5 includes Qualcomm's Snapdragon 820 processor. There's also 3-to-4 gigs of RAM dependent on which configuration you opt for out of
the three different versions in total
. Though the Mi 5 doesn't get a microSD slot, the spec'd-out Pro model packs a sum total of 128 GB of storage, so plenty of real estate to be working with.
While it's not alone in being a relative powerhouse, one of the striking aspects of the device is its price. The Standard Mi 5 packs the Snapdragon 820 (albeit slightly under-clocked), 3 GB RAM and 32 GB of storage for the equivalent of $300, which is chump change compared with the cost of market-leading handsets. The High version bumps things up with double the storage for $350, while the Mi 5 Pro variant goes all out with an optional ceramic finish, an extra gig of RAM and a total of 128 GB of storage. The Pro is just $400, though costs an extra 20ish bucks for
the toughened ceramic back
.
Xiaomi may not (yet) be as big a name as Apple or Samsung, but the Mi 5 undercuts the likes of the
iPhone 6s
and
Galaxy S7
considerably. As the Chinese company's
impressive sales numbers
continue to improve, the Big Two should be very concerned; one only has to look to Nokia and BlackBerry for evidence of how quickly the mighty can fall from grace.
The flash sale of the gold Mi 5 will begin on Friday, though unless you reside in one of the launch countries, it's going to be nigh-on impossible to get a hold of for the prices aforementioned. If you take the import route, you'll probably have to pay a hefty premium.
Here's hoping, then, that the company starts rolling out handsets to the U.S. and other nations sooner rather than later.