XWave head gear uses the NeuroSky technology to mind control stuff on your iPhone
3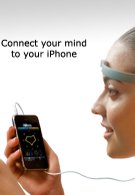 Reading the electric impulses from your brain has been around for a while, requiring a bunch of electrodes attached to your skull, and big expensive equipment. The technology has advanced quite a bit since then, and is now able to read simple brainwaves with a device resembling a headset.
That is exactly the technology behind the PLX's XWave gadget for iOS devices. It uses a headset with the NeuroSky brainwave decoding technology to allow you to do simple things on your device. The headset can be preordered now for $99, and will ship around November, while the app can be downloaded for free. If you type NeuroSky in YouTube, you can also preview some cool gaming possibilities that are in development for the brainwave-reading headset.
From what we are seeing for now you can just bounce stuff up and down on the screen by focusing and relaxing your mind, thanks to the signals going through the headset via the metal plate on your forehead. However, the SDK is available on the PLX website, and developers might make a small revolution out of it. It's a cool gimmick, if it works, of course, but wake us up when we can browse or type with our minds without the need to strain our wrists or speak, that's how lazy we are.
source:
PLX