Wozniak: Apple, Google and Facebook will be bigger in 2075
39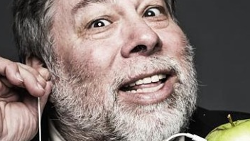 Next weekend the
Silicon Valley ComicCon
will be held and the theme will be "The Future of Humanity: Where Will We Be in 2075?" We expect to be right here, writing about the Samsung Galaxy S66 and the upcoming Apple iPhone model. The three-day conference was partially created by Apple co-founder Steve Wozniak last year. In an interview with
USA Today
, the Woz says that he expects that companies like Apple, Google and Facebook will be even more bigger and more popular in 58-years.
By 2075, Wozniak predicts that new cities will be created where deserts now exist. There will be no housing problems, and by donning special suits, people will travel from one domed structure to another. Artificial Intelligence will be everywhere, and people will be able to get diagnosis and prescriptions without having to see a doctor. The surviving Apple co-founder sees Mars colonized for heavy industry with the U.S. zoned for residential use. And while he doesn't say whether ET has an iPhone that he can use to "phone home," the Woz says that there is a "random chance" that humans will speak with those inhibiting another planet.
"Apple will be around a long time, like IBM (which was founded in 1911). Look at Apple's cash ($246.1 billion, as of the end of its last fiscal quarter). It can invest in anything. It would be ridiculous to not expect them to be around (in 2075). The same goes for Google and Facebook."-Steve Wozniak, co-founder, Apple
As for next week's ComicCon, 75,000 to 100,000 people will attend the event which runs from April 21st to 23rd. Special guests include actors William Shatner and John Cusack, and astronaut Buzz Aldrin. There is an app for the event available from both the Apple App Store and Google Play Store. If interested in purchasing tickets, click on the sourcelink. The Silicon Valley ComicCon will be held at the San Jose Convention Center.
source:
USAToday
,
SiliconValleyComicCon
via
CNET