Woz gets a Galaxy Nexus straight from Google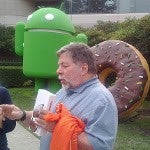 Steve Wozniak has found the loophole in the system in order to get a Galaxy Nexus before it has even been given a proper release date in the USA: be an engineering genius who was in on the ground floor of the PC revolution. Okay, so it's not much of a loophole, probably more of a perk for being one of the most beloved people in the geekosphere. Still, we're pretty jealous of Woz.
The pictures from the visit didn't take too long to get put out on Google+ from various Android team members. It looks like everyone had a good time. We'll let you know what Woz thinks of the Nexus when he says something about it.
source:
Nicolas Roard
,
Kirill Grouchnikov
,
Adam Powell
&
Steve Wozniak