Would you use a smartwatch to browse the web?
27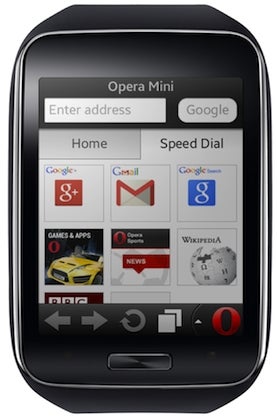 Earlier today, we told you that Opera Mini would become the first web browser to be
available on Samsung's Gear S smartwatch
(which hasn't been released yet, but it
should go on sale
starting the next few weeks). Since the Gear S is the first smartwatch to feature 3G connectivity, thus being capable of functioning completely independent from a smartphone or tablet, having a full web browser of its own makes sense. Or maybe not?
While it's true that
the Gear S
offers the largest display among current smartwatches (thanks to its 2-inch, curved Super AMOLED panel with 320 x 480 pixels), browsing the web on it would still be a crippled experience, since most of us now find screens smaller than 3.5-4 inches unsuitable for mobile internet. A better alternative to squinting at your wrist would be to rely on Google Now and use your voice for web searching. Unfortunately, as you probably know, Google Now is available only on Android Wear smartwatches, so it can't be used on the Gear S (as this runs Tizen).
So, we must ask: would you really use a smartwatch (not necessarily the Gear S) to browse the web? Cast your votes in the poll below: