Would you pay more for an iPhone or a Galaxy if they were 'made in America'?
92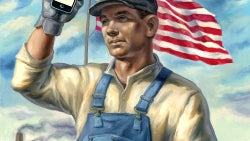 President Trump rose to prominence on the wings of many promises during the election campaign period, and one of those was the "made in America" battle cry. It would result in manufacturer mandates to assemble their goods here, and bring paying employment back to the Rust Belt, compensating somewhat for the exodus of manufacturing jobs to China and other places over the last few decades. Well, there might not be mandates just yet, but some companies are being singled out as examples, and getting coerced into investing in US factories through an intriguing mix of tax incentives and plain old Twitter storms by the President himself.
Apple's
Tim Cook was summoned not long ago
to discuss making some of its gadgets here, and yesterday
the President shouted a loud "Thanks you!" to Samsung
for building an imaginary factory here in the US, which caused a bit of a confusion, as those plans are apparently neither finalized, nor approved just yet. In any case, if and when iPhones get assembled here, partially or in full, it would add up anywhere between $30-$100 to the basic $649 price of one, calculated MIT researchers, and the same probably goes for a high-end Galaxy.
In fact, one popular Apple analyst already suggested that there should be a
special "made in the USA" model
for which Apple may charge between $100-$200 more, depending on the version. That is why we wanted to ask you if you would be willing to pay more for your phone provided that it had the "made in America" stamp on the back. Tell us in the poll below, and sound off in the comments.