Would you buy a Samsung Galaxy Alpha instead of an S5 (seeing that their prices are similar)?
43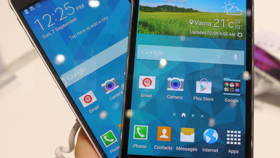 Although we initially told you that the
Galaxy Alpha
would
be cheaper
than the
Galaxy S5
, it turns out that Samsung's new handset is being sold for about the same price, and, in some cases, it's actually more expensive than Samsung's first flagship smartphone of 2014.
The Galaxy Alpha is
officially coming to the US
this Friday, September 26, exclusively via AT&T. The second largest US carrier is asking $199.99 on contract, and $612.99 off-contract for the new handset - thus almost matching the price of its Galaxy S5 ($199 on contract, and $649.99 off contract).
Since you can get an unlocked Galaxy S5 from Amazon for just $552, we can definitely say that the Alpha is more expensive. That's also the case when we compare the prices of the Galaxy Alpha and Galaxy S5 in other markets: €665 vs. €482 in Germany, or £530 vs. £400 in the UK. This being said, we're curious to know if - assuming you're in need of a new Galaxy that's not
a Note
- you'd want to buy a Galaxy Alpha instead of an S5.
The Alpha may have
a nicer design
, and a sturdier construction based on a metal frame, but at the same time it offers a smaller display with a lower pixel resolution (4.7 inches with 720 x 1280 pixels vs. 5.1 inches with 1080 x 1920 pixels), and isn't water-resistant. To see how the Galaxy Alpha stacks up against the Galaxy S5, check out
our hands-on comparison
. And, of course, feel free to cast your votes in the poll below.