World's smallest ARM chip is the size of a grain of sand: made to be swallowed
13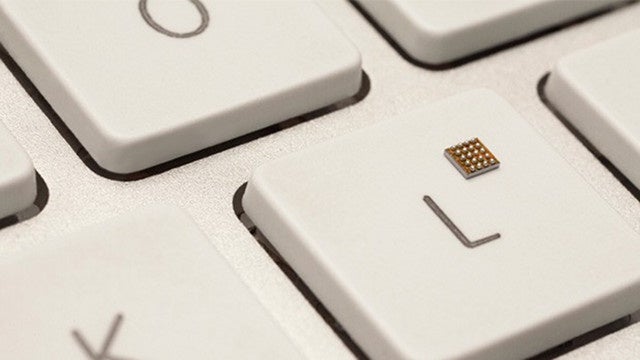 Mobile computing is going to tinier and tinier scales, but you haven't seen a chip this small. Freescale has made the world's smallest ARM-based chip, the
Kinetis KL02
, measuring a mind-bogglingly tiny 1.9mm by 2.2mm.
It is a full microcontroller unit and that basically means it has a processor with RAM, ROM clock and I/O control units, making it a full-fledged computer.
It might not be the most powerful computer you've seen with a 48MHz 32-bit processor, 4KB of RAM and 32KB of internal storage, but you should look at this from another angle - this super tiny chip is supposed to be swallowed and be inside your body.
"We are working with our customers and partners on providing technology for their products that can be swallowed but we can't really comment on unannounced products,"
says Steve Tateosian, global product marketing manager for Freescale.
And the implications for medicine (including preventive medicine) could be just huge. The KL02 costs only 75 cents apiece which means that it is one of the first harbingers of the Internet of Things.
It could be not just in medications - at that price in the future it could be in our shoes tracking our daily steps, in pipes telling when there is leakage.. everywhere.
"We come across hundreds of [microcontrollers] embedded in the devices we use throughout the day," says Tateosian. "For example, you may come across them when your alarm wakes you up, you brush your teeth, make your coffee, unlock your car door, open your garage, put down the car window, pay the parking meter, tell the time on your watch, measure your heart rate, distance, and pace. While running you may listen to your music player with several controllers inside, including in the ear buds themselves."
source:
Wired