Woman is too focused on texting & takes a dunk into a mall fountain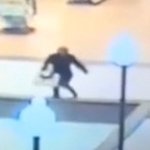 There is no arguing that texting can really take your attention away from what's in front of you, especially while driving a motor vehicle, but it still applies when casually walking around somewhere.
We've heard stories about a
teenager falling into a manhole because of texting
, but this video taken from a security camera shows a woman too busy texting away to even notice that she's on a collision course with a mall fountain – eventually falling into it. Granted that the outcome isn't life threatening, it just reiterates the fact that texting is a big distraction while driving.
Aside from the unfortunate event, it's rather bewildering to know that security videos like this are shared with other people aside from security guards – especially when you can hear every comment from the people who recorded the video.
via
Gawker
&
MobileSyrup