Woman falls to her death while taking "selfie"
91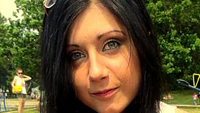 This is one of those tragic stories that needs to be told, even if just to serve as a warning to others. 23-year old med student Sylwia Rajchel was taking a breather from her studies in Poland, to take a vacation in Spain. On the ledge of the Puente de Triana bridge she posed, hoping to take the perfect "selfie." But in the process of taking the picture, Rajchel lost her footing and plunged 15 feet into concrete footings used to support the structure.
After impact, Rajchel went into cardiac arrest. Medics arrived at the scene, but could not save the young woman, who was studying to become a nurse at the University of Medicine in Posada. The bridge is a popular place for photographers to snap photos of the region.
So let this be a reminder to you that whenever you take a "Selfie," you need to consider your safety first. It might impress your friends when they see a photo with your face in the foreground with an impressive looking background. But you need to be aware of your surroundings. Don't lean or stand off-balance in a pose, where one slip means injury and death. No one wants to have to see the very last "selfie" you ever take. That would be the one snapped in the morgue.
source:
NYPost