With smaller carriers backing out of the 600MHz auction, T-Mobile is poised to clean up
9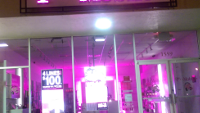 Many of you might remember that the government is set to sell off valuable 600MHz spectrum next year in an auction. The airwaves belong to television broadcasters, and because they are low frequency, the signals travel farther and penetrate buildings better than higher-frequency spectrum. T-Mobile has been making a lot of noise about this auction for a couple of years now,
demanding that the FCC leave spectrum aside for smaller carriers
. When the FCC agreed to hold back some spectrum for smaller carriers in order to prevent Verizon and AT&T from buying up all of the available airwaves in sight, T-Mobile wanted more held back,
but was turned down by the Feds
.
Now, as we get closer to the auction which will be held in March, it is beginning to look like T-Mobile will be a big winner after all.
Sprint has already pulled out
of the auction, saying that it is happy with the amount of spectrum that it already owns. Even Dish Networks, which was so hungry for spectrum last year that it would have jumped at this chance, is no longer a sure bet to participate. And the smaller carriers that T-Mobile was so quick to stand behind, are beginning to back off. For example, Wisconsin based Cellcom says that it can't afford to spend money for airwaves that it won't be able to use for some time.
The issue for some small carriers is that the broadcasters have 39 months to give up the spectrum they are auctioning off. That means that these smaller mobile operators will be tying up money for spectrum that they might not be able to use until 2020. But T-Mobile sees opportunity here.
Currently the nation's third largest carrier
, they still need to plug up some gaps in the ol' coverage map, and obtain enough additional spectrum to increase speeds. T-Mobile CFO Braxton Carter said last month that the carrier has up to $10 billion at its disposal if opportunities arise.
No one has ever called out T-Mobile CEO John Legere for lacking ambition. The 600MHz auction could turn out to be the next big step taken by Legere and company as the mobile operator aims for the very top. In some ways, this is a side of the un-carrier that makes it no different than the rivals it constantly is attacking. It might be a little amusing if T-Mobile outspends all of the other carriers, considering it made the most noise complaining to the FCC about Verizon and AT&T buying up all of the spectrum being auctioned off.
source:
CNET