With Steve Jobs' wife in the audience, Obama urges us to find the next one, asks all offshore accounts home
29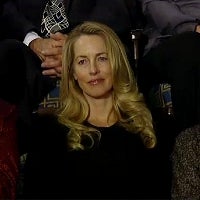 At his State of the Union address yesterday, President Obama urged us to overhaul the culture in this country towards one fostering talent and innovation in search for "
the next Steve Jobs
", partly by addressing the current lack of qualified engineers and scientists at times when unemployment is soaring.
Steve Jobs' widow, Laurene, was sitting in the audience, when Obama also asked companies to bring back either
the cash hoard they have accumulated in offshore accounts
(nudge, wink, Apple, Google and the rest), try to bring jobs here, or both. For his part, the President promised to help create the environment to do so, starting with tax breaks for bringing back home cash or jobs.
It's easier said than done, though - when
Obama asked Steve Jobs
what can they do to bring Apple's manufacturing jobs in the US, SJ simply replied "
These jobs are not coming back
", partly because companies with the
manufacturing capacity and flexibility of assembly juggernauts like Foxconn
just don't exist in a service economy like the US one.
As for the
tax amnesty on money in offshore accounts brought back home
, history has shown that similar programs ended up with companies just hoarding the cash locally instead of abroad, but investment and hiring didn't budge above the usual levels, making most of these talking points moot. Oh, well, it's the State of the Union speech.