Wireless carriers and their customers around the world
2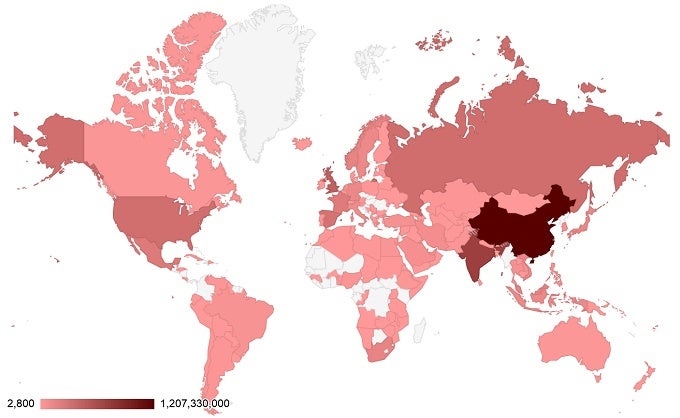 For those of us that work in the industry, or those that are just wired into the wireless industry (pun intended), we know a lot about the companies that provide service and how big they are in general.
What is more interesting though is the customer bases of these providers. For those that do not know, China Mobile is the world's largest mobile operator with nearly 750 million subscribers. However, China Mobile's customer base lies nearly exclusively in China, with an additional 20 million customers in Pakistan (on a carrier called ZoNG). The rest of the Chinese market is wholly owned by Chinese companies (aka the Chinese government) with no foreign holdings.
Some talented minds at DialToSave have scrubbed through the subscriber data of mobile operators and their subsidiaries around the world. What they found was an interesting disposition of mobile subscribers "owned" by those companies.
In contrast to China Mobile, Vodafone, another of the global giants and headquartered in the United Kingdom, has the overwhelming majority of its customers outside of its home market. It is no surprise that over 150 million of customers "owned" by the British wireless carrier are in India. When looking at the global customer base served by that carrier and market, Vodafone and indeed the British market is the largest of them all.
Telefonica, based in Spain serves over 170 million customers outside its home market brand, Movistar. The majority of customers are in Brazil and the rest of South America. Russia is the third largest market based on international customer make-up with more than 60 million customers spread across Asia, parts of Europe and in Canada.
France, Mexico and Norway round out the runners up in standings of markets that have a significant foreign presence thanks to Orange, America Movil, and Telnor respectively. All told, out of the 6.5 billion mobile subscribers in the world, nearly 40% of the subscriber base is "foreign" owned.
Where does the United States line up in all this? In addition to the 295 million subscribers in the market, there are just an additional 34 million subscribers "owned" in international markets. What may be surprising to some though is that most of those international subscribers are not held through companies associated with the major players like AT&T and Verizon.
As for the drivers behind what shaped the market in this way, it is obviously a cultural and economic consideration. For example, Vodafone's involvement in India, Australia, New Zealand and parts of Africa tie in with the heritage of what used to be parts of the British Empire. The same can be said of the fact that China, who does not have a history of significant colonization, remains closely held.
Economic factors also posed a mandate for large companies that need to drive growth in order to maintain existing (and expensive) infrastructure. For some companies, they pursued a model of growth through acquisition and development in new markets. For others, what might called "non-core" holdings, would be divested to focus on home markets. Verizon is an example, the company used to have wireless holdings in Canada, Dominican Republic, Puerto Rico and Venezuela.
In the final analysis, the global wireless market consists of well known players on the global stage as well as some companies that sit in the background. We included some screen shots showing the holdings based on the largest markets. The team at DialToSave put together an interactive map which you can connect to via the source link.
Wireless Carriers and their International Customers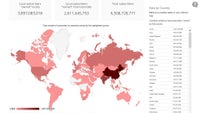 source:
DialToSave