Wireless Armour protects what is precious from your smartphone's electromagnetic radiation
5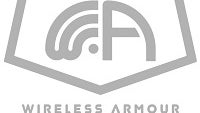 Meet Joseph Perkins. He wants to protect your particulars from the electromagnetic radiation you may be submitting them to from keeping your phone in your pants.
In short, he believes more needs to be done to protect the thing in your pants from that other thing you put in your pants. As such, what is basically a wearable Faraday cage was designed, in the form of men's underwear.
Citing unnamed studies that show a man keeping a phone in his pants causes a reduction in sperm count and sperm motility. Of course, the research on health impacts from mobile phone radiation is inconclusive at best, but Perkins is on a mission, and it may not be all that misguided.
As our world gets more and more "wireless" that means an increase in wireless spectrum use in our lives, so who is to say at some point, we will not encounter a tipping point where our devices start to really hammer our friend down there.
Thus, Wireless Amour was born. These silver woven under pants not only protect the goodies from your mobile device's radiation, but the silver is also anti-microbial, so you should be feeling quite fresh with a pair of these hugging you down there.
The campaign is to raise £30,000 ($50,000). That money figure is big enough for Wireless Armour to put in a fabrication order large enough to keep the per-unit prices down. Early backers can get in starting at £14 ($23). The perks go up from there. You can get a week's supply for £105 ($175). There are extra costs for postage. You will get your shorts by July.
These prices are steeper than your regular set of Fruit-of-the-Looms, but it's the silver that makes them pricey. Even if the defense against electromagnetic radiation were not stated to be 99.99% effective, we think he is on to something when it comes to the anti-bacterial properties. Hopefully, if the campaign is successful, Joseph will do some more work on Wireless Armour's chosen logo, because we aren't sure what to make of that. See the video and source link below if you want to keep happy Herman, happy.
sources:
Wireless Armour
via
Pocket-lint