Wirefly performs a lengthy unboxing for the HTC Thunderbolt; release being pushed back?
16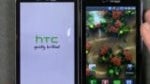 Just when things were looking like a go for
Verizon's HTC Thunderbolt
, but from out of nowhere, there are some clear cut indications that the handset's release might be pushed back.
However,
Wirefly
recently got the opportunity of recording a lengthy
unboxing
video of the upcoming Android powered smartphone. Not only do you get a sneak peek at what to expect, but there are some comparisons thrown in with the Samsung Fascinate.
Although the handset was rumored to become available in time for the
week of Valentine's Day
, now it appears as though it's being delayed. Specifically, a recent leaked document points to the telling tale that there is "
no ETA at this time
" regarding its eventual release. In addition to that, there is more confirmation of a delay after Amazon's product page for the device no long mentions an exact release date. Furthermore, Wirefly now says that they will "
begin selling the Thunderbolt soon
" – but without any specific date associated to it.
Now even though it's looking all too likely that it's going to be delayed, let's cross our fingers and hope that it maintains a short wait.
source:
Droid Life
&
Wirefly
via
Engadget