Winner of our HTC One X giveaway
17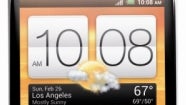 Cue in the drum roll, dim down the lights, and get ready to pop that bottle of Dom Pérignon! No, the end of the Olympics is not what we are celebrating, although we're releived to know that people will leave their TVs alone for a bit and get back to tinkering with their smartphones. Actually, today is the day we announce the lucky winner in our latest giveaway.
Congratulations to loyal PhoneArena user romy134
, who just won the amazing prize of over 9000 internets! Oh, and a brand new
HTC One X
from our super-cool friends at AT&T is also going to be in his or her hands pretty soon.
For those who have missed the chance to win an HTC One X, we wanted to know which your favorite workout song was. Boy, some of you, guys, really know what music to listen to! Thanks to everyone who participated by sharing their favorite tunes with us, and keep an eye out for any of our future giveaways. You never know when Fortuna might just sprinkle you with her blessings!
Once again, a big THANK YOU to all participants, and congratulations to
romy134
!
Recommended Stories