Windows Phone emoticon cheat sheet gets posted
5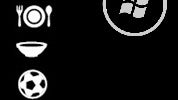 Chances are that if a cave is not what you live in, you are well aware of what
emoticons
are. The cute little pictures are quite often used in IM chats and text messages due to their ability to clearly express emotions (thus their name) with only a few characters. The tricky part, however, is that there is tons of them, and the right character combination may not always be easy to remember.
Now, if you own a
Windows Phone
handset, you might be interested in the list of emoticons that the guys over at the
Windows Team blog
have posted. And while some of them you might be already familiar with, others may be completely new to both you and your buddies.
Of course, you have to keep in mind that the majority of these emoticons work only in Windows Phone and Windows Live Messenger. Therefore, most of them will not be displayed the way you would expect if you send them to someone with an iPhone or an Android smartphone. But if you know someone who owns a Windows Phone handset, feel free to impress them with some cool emoticons! Which one of them is your favorite? Do not hesitate sharing with us in the comments below.
Recommended Stories