Windows Phone Inner Circle events and night parties in store across the US in the coming weeks
6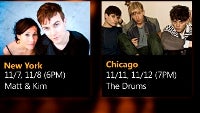 Firing off with LA on Friday, and continuing throughout November, the Windows Phone team is throwing groovy parties for its aficionados, in order to drum up excitement about the platform.
Nokia World is tomorrow, and the largest phone maker in the world is expected to unveil its first Windows Phone offerings, which should mark the start of a new era for Microsoft's new mobile platform, a year after its introduction.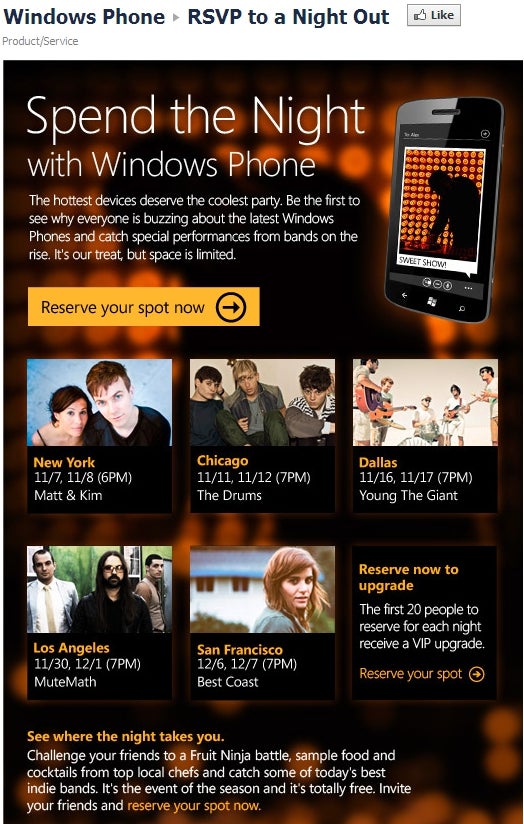 On October 28 the team is heading to Los Angeles for a gig with free phones and afterparty, called the
Windows Phone Inner Circle
. The next dates and places are 2-Nov SF - featuring the new HTC Radar 4G from T-Mobile, 7-Nov NYC, 9-Nov Miami, 9-Nov San Diego, 9-Nov DC, 9-Nov Denver, 10-Nov Baltimore, 10-Nov St. Louis, 11-Nov Chicago, 14-Nov Boston, 14-Nov Atlanta, 14-Nov Houston, 16-Nov Philadelphia, 16-Nov Charlotte, 17-Nov Dallas, 17-Nov Nashville, 17-Nov Phoenix, and 21-Nov is reserved for Seattle.
Parallel with those, the Windows Phone folks are holding indie events with a bunch of famous bands in five major cities, so you can hop from one event to another:
New York City
is on November 7 & 8 featuring Matt and Kim, then we have
Chicago
November 11 & 12 featuring The Drums,
Dallas
on November 16 & 17 with Young The Giant,
Los Angeles
November 30 & December 1 featuring MuteMath, and the show ends in
San Francisco
December 6 & 7 with Best Coast.
Attendance is free, with food and drinks provided, so you can head over to the source links and register before the spaces fill out.