Windows Phone 7 powered HTC Spark spotted on HTC's web site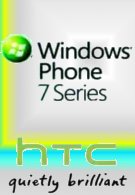 It's a safe bet to say that HTC is pretty busy cranking out some quality smartphones, but for the most part right now, we've witnessed them to be mostly for Android. They're consistently setting the bar each time whenever they manage to announce and then release a handset – and there's barely any breathing room between announcements. The shift in season is going to cause the Taiwan based manufacturer to start looking at the Windows Phone 7 platform with a keen eye – where it looks like they're going to devote a great deal amount of time with.
We've already heard about Windows Phone 7 devices like the
HTC Mondrian
and
HTC Mozart
through HTC's MMS XML web site, but it looks like yet another is being added into the mix. The HTC Spark is the latest device to be seen on the site and continues to show what kind of commitment HTC has made for the highly anticipated new platform expected to revitalize Windows as we know it. This time around, the HTC Spark is listed as being a keyboard-less handset with an unspecified sized WVGA display and will run the next generation Windows Phone 7 platform. Although it was believed to be a CDMA device, the information gathered from the listing point to a GSM/GPRS radio – but it's also possible for this one to be a dual-mode device; time will truly tell.
source:
HTC
via
wmpoweruser